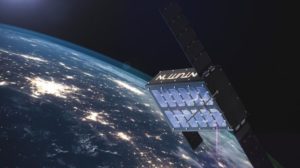 Clyde Space, the Scottish subsidiary of Swedish company ÅAC Microtec AB, has been tapped by Polish New Space company KP Labs to build the 6U CubeSat platform and arrange the launch of Intuition-1, the world's first hyperspectral imaging CubeSat, according to a 23 April 2019 report in U.S. trade publication Space News.
"We selected Clyde Space as a subcontractor to build a satellite platform and organize Intuition-1's launch. Recently signed contract covers these services," said KP Labs' Grzegorz Łada in an interview with Space News.
"The project is scheduled to be implemented between January 2018 and December 2023. Currently, we are in the process of research and development which will continue until the end of 2019. Between 2020 and 2021, the satellite will be integrated, and in early 2022, we will perform qualification tests. The launch, which will put the satellite into the 600-kilometer low Earth orbit, is planned for the period between the end of 2022 and the beginning of 2023. The basic mission of the satellite will start in 2023," Łada added.
KP Labs would not tell Space News the value of the Clyde Space contract, but indicated that it exceeded GBP500,000 (approximately U.S.$645,000).
Clyde Space will build the 6U CubeSat bus as well as the on-board computer and communications, attitude control, and electrical power systems, as well as arrange and prepare for the launch of Intuition-1.
KP Labs was founded in 2016 by a team of engineers from the Silesian University of Technology in Poland, and focuses on satellite and information technology solutions for Earth observation, especially computer vision and machine learning products. Work on the Intuition-1 CubeSat project began in 2018 as part of a project called HyperCam that is co-funded by KP Labs with Poland's National Centre for Research and Development. The entire HyperCam project is thought to be worth U.S.$5.1 million.
Intuition-1 will carry out hyperspectral imaging from low-Earth orbit (LEO) using an onboard data processing technology that is based on deep neural networks in turn enabling the satellite to assess in real-time the condition of plants, trees, crop harvests, and provide pollution mapping of urban areas.
Clyde Space was selected by KP Labs after the Gliwice-based company evaluated eight bids from European and U.S. companies over a nine month period.