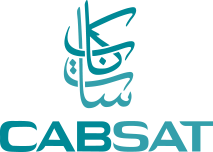 By Martin Jarrold
In 2019 CABSAT returns to its traditional March calendar slot and once again the Dubai exhibition will be complemented with an important Global VSAT Forum (GVF) programme of key satellite industry themes which will afford a high-profile to participating speakers and supporting sponsor organizations.
The GVF Satellite Hub Summit @ CABSAT 2019 – the 5th event in the successful series and one of the most important regional platforms delivered by GVF for MENA & South Asia – takes place on 12 to 14 March 2019 at Dubai International Convention & Exhibition Centre/Dubai World Trade Centre.
The essential value-added feature of the annual CABSAT exhibition, the 2019 programme will not disappoint, with almost 30 contributors from 27 different organizations "taking the stage" at some point across the two main days of the Hub Summit and the final half-day Workshop.
Free-to-attend, presentation-based, panel discussion-focused, with wide-ranging content, and presented within a physical "Hub" – an open-access theatre-style structure situated within the satellite exhibition hall – this is what characterizes the Satellite Hub Summit.
Our aim is to provide a continuing major focus for the discussion of satellite communication industry themes applicable to the Middle East, North Africa and South Asia regions, in the context of the wider industry and world, serving to create a powerful and prominent platform for addressing and analysing evolutionary and revolutionary transitions in satellite technologies, services, applications, and markets.
This year we have speakers from (in alphabetical order by organization name): ArabSat; Comtech EF Data; Euroconsult; Eutelsat; GVF; Hughes; iDirect; INSTER Tecnología y Comunicaciones; Integrasys; Intelsat; International Telecommunication Union; Kratos Communications; LeoSat; Methera Global Communications Ltd; Mission Microwave Technologies LLC; ND SATCOM; Newtec; Northern Sky Research; PTScientists; Satcoms Innovation Group; Satellite Markets & Research; SES; SES Networks; SpaceWatch.Global; Talia/Quika; United Arab Emirates Telecommunications Regulatory Authority; and, ViaSat.
Key 'Knowledge Partners' for the Satellite Hub Summit include SpaceWatch Global, and Torsten Kriening of SpaceWatch Global will be one the moderating team.
The programme for the Dubai Hub Summit will begin on CABSAT Day One, 12 March, with keynotes from Khalid Al Awadi, Manager, Broadcasting & Space Services, Spectrum Management Affairs Department, United Arab Emirates Telecommunications Regulatory Authority, and from Xiuqi "Ellie" Wang, Head, Data Treatment Section, Space Publication & Registration Division, Space Services Department, Radiocommunication Bureau, International Telecommunication Union.
Four main programme sessions over two days will feature the following key themes for discussion:
Global Satellite Focus… "Big Ticket" Issues on the Industry Forward Agenda
Global Satellite Business is Big Business. New Space Making It Bigger
Mobility: 'Maritime Morning' – "To the Wider Market and Service Horizon"
Mobility: 'Aero Afternoon' – "It's Not Just About the IFEC!"
Details of the developing programme with timings on a session-by-session basis can be seen on the GVF Satellite Hub Summit web pages at https://www.cabsat.com/features/gvf-satellite-hub-summit.
The format of the four main sessions provides for each speaker/panellist to have a maximum of 15 minutes to deliver a presentation detailing his/her opening remarks relating to their selected topic within the overall session theme to which they are a contributor. At the conclusion of all presentations/opening remarks the speaker/panellists will form a panel. The following 45-50 minutes will be comprised of a moderator-led interactive discussion amongst the panel members and the Hub Summit audience.
Also, during the CABSAT exhibition GVF's traditional evening reception will again be generously hosted by the GVF member organization MenaNets, and its CEO, Mazen Nassar, who is one of GVF's principal trainers in the MENA region.
Join us in Dubai! We look forward to seeing you there and to engaging with your contributions from the Satellite Hub Summit audience. Remember, it's free-of-charge to attend. Safe travels!
Mr. Martin Jarrold is Chief of International Programme Development at GVF.