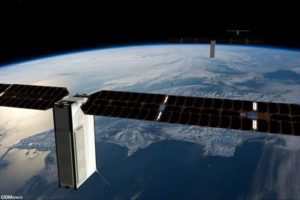 Sky and Space Global, Ltd. (SAS) has announced that it has signed a trial agreement with Nigerian mobile telecommunications provider, MTN Nigeria.
Under the agreement, SAS and MTN Nigeria will examine the potential for collaborative projects using advanced Internet of Things (IoT) and narrow band applications in several fields for application in the growing African market. This will be done with the intention of progressing to a commercial agreement for MTN Nigeria's use of SAS' disruptive narrowband communications solutions and services.
MTN Nigeria forms part of the MTN Group, Africa's leading cellular telecommunications company. It is Nigeria's premier provider of connectivity, communication and collaboration solutions, and the largest privately-owned mobile operator in Africa, Europe and the Middle East. Its core mission is to be a catalyst for Nigeria's economic growth and development, helping to unleash the country's strong developmental potential not only through the provision of world class communications but also through innovative and sustainable corporate social responsibility initiatives.
Since its launch in August 2001, MTN Nigeria has steadily deployed its services across the 36 states of Nigeria and the Federal Capital Territory, Abuja, to provide services in 223 cities and towns, over 10,000 villages and communities and a growing number of highways. Many of these villages and communities are being connected to the world of telecommunications for the first time ever.
Commenting on the trial agreement, Meir Moalem, Managing Director and CEO of SAS said: "We are delighted to be collaborating with MTN Nigeria and see the strong potential of our advanced IoT and narrow band technology to open up the telecommunications market in Africa. There is a clear need to provide large, underserviced populations with access to affordable and reliable telecommunication services, and our nano-satellite technology provides regional telecommunication providers with a disruptive and cost-effective satellite alternative."
MTN Group Limited is a South Africa-based multinational mobile telecommunications company, operating in many African, European and Asian countries. Its head office is in Johannesburg. As of 30 September 2018, MTN recorded 225.4 million subscribers across its operations. Although MTN operates in over 20 countries, one-third of its revenues come from Nigeria, where it holds about 35% market share.
MTN continues to grow, with a view of bringing world-class telecommunications and digital services to markets across Africa and the Middle East. The company offers an integrated suite of communications products and services, including traditional mobile voice and data, digital and mobile financial services as well as enterprise services.