The successful launch of the Vietnamese MicroDragon Earth observation satellite took place on 18 January 2019 from the Uchinoura Space Centre in Kagoshima Prefecture, Japan.
The Earth observation satellite was carried by an Epsilon 4 satellite launch vehicle, which also lofted six Japanese-made satellites into low-Earth orbit (LEO). The MicroDragon satellite will be operational after one to three months of on-orbit testing and calibration has been completed.
Dr Vũ Anh Tuân, deputy director of the Việt Nam National Space Centre, under the Việt Nam Academy of Science and Technology, was in Japan to observe the launch.
"Micro Dragon is a further step for Việt Nam in gradually mastering the design and production of satellites," he said.
"Producing satellites of our own will help Việt Nam own satellites to serve different purposes. They will not be used only to observe the Earth but also to warn of natural disasters and calamities, and for tackling climate change. Việt Nam will not need to depend on a third party in satellite production. It will also help facilitate the development of other industries like materials, mechanical engineering and automation," he added.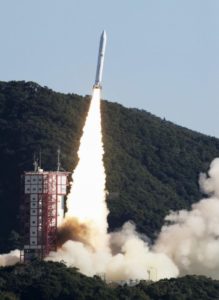 MicroDragon was developed by 36 Vietnamese engineers from the National Space Centre with help from Japanese experts. The engineers were sent to study space technology at five major universities in Japan between 2013 and 2017. Work started on the satellite in 2013, and it was tested successfully in 2017.
The MicroDragon satellite weighs 50 kilograms and measures 50cm x 50cm x 50cm. It will be tasked with observing coastal areas to assess water quality, locate fishery resources, and monitor changes in coastal waters to serve Việt Nam's aquaculture industry. It is also set to receive signals from the ground and transfer data to other distant places on earth, while testing new materials like atomic oxygen and antimony tin oxide-coated solar cells.
The launch was initially scheduled for the morning of 17 January 2019 but was postponed due to inclement weather.
In November 2013, VNSC successfully built and launched Pico Dragon, a small satellite measuring 10cm x10cm x 11.35cm. After the successful launch of the MicroDragon Earth observation satellite, Việt Nam plans to build and launch the LOTUSat-1 and LOTUSat-2 high-resolution Earth observation satellites.