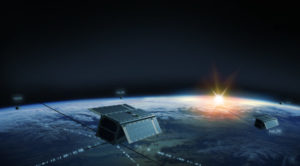 Swiss satellite operator, Astrocast, has lofted three new pilot Nanosatellites that promote affordable Internet of Things (IoT) connectivity. The pilots are designed specifically for IoT applications and Astrocast's two-way system allows companies to monitor and control their remote assets, including over-the-air upgrades at lower latency and cost than existing satellite communications networks.
The pilot satellites have been developed with Actia, Marine Instruments, and Swiss Fresh Water and highlight the power of satellite networks to deliver affordable communications to the world's most remote areas. The satellites enable even small companies such as Swiss Fresh Water, that specialises in delivering water purification to remote villages, to monitor their machines from anywhere.
Astrocast's first L-band, two-way communication nanosatellite was launched in December 2018 and the current deployed satellites will eventually grow to a network of 64 to deliver global coverage.  Only 10% of the world is currently covered by cellular networks and less than 1% of the world is covered by IoT networks like LoRaWAN or Sigfox.
"Our on-board telematic equipment is designed to support some of the toughest work, in the most remote areas of the world. Agriculture, construction and transportation companies are among the many companies relying on us to keep connected vehicles," said Philippe Cabon, CTO of Actia. "Astrocast will help us to connect vehicles everywhere."
"When we started this project, we knew we had the right tools and technology to bring clean water to the world. Our water stations are at the center of some very remote villages and are a lifeline to those communities," said Mr. Jean-Luc Mossier, Executive Chairman of Swiss Fresh Water. "With Astrocast we can make sure these treatment machines are producing clean drinking water and remotely perform maintenance to ensure their operations."
The satellites feature L-Band and S-Band communication modules smaller than a credit card designed in partnership with Airbus 256 bit encryption with multi-level security Web application for monitoring assets and subscription plan.
"It is very important for our customers to be able to track and monitor their marine buoys, especially deep at sea and in extreme conditions," said Francisco Pino, Co-Owner of Marine Instruments. "Our collaboration with Astrocast will make monitoring and controlling IoT devices in remote areas more feasible, especially when the area is hundreds of thousands of nautical miles wide."
The Astrocast pilots will continue throughout Q1 of 2019. Companies interested in joining the Astrocast pilot program can email for more information.
"The growth of IoT devices for commercial purposes is outpacing anything the analysts predicted. And in many cases these devices are performing tasks that are impacting the lives of entire populations," said Fabien Jordan, CEO of Astrocast. "Astrocast is helping make world changing new IoT applications possible."