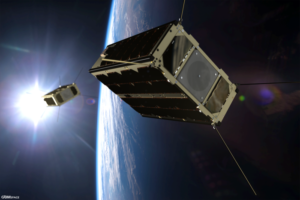 GomSpace Luxembourg, a subsidiary of Denmark-based GomSpace, has announced that it will start offering constellation operations management-as-a-service for clients in 2019.
GomSpace argues that, "satellites are getting smaller and cheaper, constellations are getting larger and more complex. The cost reductions achieved by nanosatellites have enabled new business models, but few are actively trying to solve the complexity of managing the mega-constellations. The vast multi-disciplinary knowledge necessary to operate a large constellation is often underestimated and the required amount of staff remains comparable to traditional operators."
Starting in 2018, GomSpace has set up a team in Luxembourg that is focusing on constellation management services. This team is addressing the need for intelligent, flexible, and scalable operations for satellite constellations by introducing a new cloud platform and service model.
GomSpace says it is leveraging more than a decade of experience enabling satellite-based businesses to provide a cost-effective solution to its customers. In a company announcement, GomSpace says that "[S]ince our origins, we have generated a wealth of intellectual property and experience of operating subsystems, payloads, platforms, constellations, ground stations and end-to-end services. And all of these are currently being consolidated in our Mega-Constellation Operations Platform, to offer our customers constellation management services."
The business case for the GomSpace Mega-Constellation Operations Platform is as follows:
Reduction of CAPEX, avoiding large upfront investments in tools, infrastructure; and staff;
Scalable with business growth, as the platform can manage the first in-orbit demonstration through to the complete constellation;
End-to-end integration, including satellites, terminals, ground station networks, and end-to-end services all in a single platform;
Is flexible and can respond to changing business needs, such as maximization of the mission lifespan, reduction of overall costs, compliance with regulations, maximization of service performance, coverage, management of service, or disposal at the end-of-life;
Fully automated routine operations and highly automated contingency operations, providing hands-off and even lights-out operations, enabling customers to focus on their core business;
Fully managed services, including data processing and dissemination, service quality control, actively securing the entire chain with world-class latency and uptime performance.
Constellation management of nanosatellites require a wealth of disciplines, such as configuration management, security, network management, situational awareness, orbital dynamics, scheduling, automation, disaster recovery, simulations, radio-frequencies and regulations. It is because of this scale and complexity of constellation operations management that GomSpace sees a gap in the market.
"Our plan is to disrupt the market for satellite operations in the same manner that GomSpace disrupted the status-quo for the space segment in terms of price/capability," said GomSpace CEO Niels Buus. "With operations as a GomSpace service, we allow our customers to extract the highest possible value from their investment in space-based infrastructure with minimal CAPEX investment in the ground segment."
"GomSpace has the expertise and tools, both continuously being integrated in our platform, that is used by each mission since AIT (Assembly, Integration and Testing) and growing with the constellation," the company said.
"Such a level of reliability and flexibility is only possible with a multi-layered automation solution that compounds the operators experience to generate increasingly more complex operations while keeping the total cost of operations at a competitive level. GomSpace Luxembourg is supporting a growing number of missions, integrating with the leading ground station network providers and every month releasing new features and capabilities to improve our operations," it added.