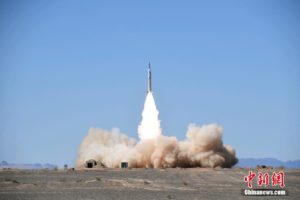 The end of 2014 saw an important development for the Chinese launch sector when the government allowed private capital investment into the Chinese launch and small satellite sectors. Since then, there has been rapid development in small satellite launch vehicles with around 10 new companies emerging as a result. Andrew Jones, writing for Space News, has reported that two Chinese launch companies, OneSpace and iSpace, are getting ready to operate their first launches in the first half of this year.
OneSpace's OS-M rocket could potentially stage its first launches in late March 2019. Andrew Jones has reported that the company 'will soon proceed with comprehensive electrical systems and payload fairing separation tests as next steps toward launch'. In September, OneSpace accomplished its second suborbital flight with its OS-X1 rocket from the Gobi Desert.
The OS-M is able to transport a 205kg payload to a 300km Low Earth Orbit (LEO) and a 73kg payload to 800km Sun Synchronous Orbit (SSO). The launcher itself stands 19m tall and comprises four stages. The inaugural payload is as yet unknown. A successful maiden flight would mark the first orbital launch for a privately-owned Chinese company. An unsuccessful orbital flight was undertaken by Landspace in October but the third stage of the rocket failed and the payload was lost to the Indian Ocean. However, Landspace has moved on to secure an additional U.S.$43million in funding and is progressing with tests on its Tianque-12 liquid methane and liquid oxygen rocket engine to power the two-stage Zhuque-2 rocket. The company is aiming for flight in 2020.
iSpace launched its Hyperbola-1Z single-stage rocket and became the first Chinese commercial company to do so from a national space centre. The company was established very recently, in 2017, and has stated that it hopes to launch three vehicles in 2019, the first scheduled for the first half of 2019. The Hyperbola-1 rocket comprises three solid stages and a fourth liquid stage and can deliver 150kg of payload to a 700km SSO.
Though it is very evident that these, and other, firms are accelerating their ambitions due to private money, it also seems that they are receiving the benefit of state-funding from the State Administration for Science, Technology and Industry for National Defense (SASTIND). There has also been military-civilian collaboration where sensitive technology transfer has been completed.
Other start-ups include LinkSpace, formed in 2014, which is developing a vertical take-off, vertical landing orbital vehicle called NewLine-1 and due for inaugural launch in 2020. Galactic Energy is another, which is developing a small solid launcher and larger launcher.
Traditional Chinese players are also involved in the development of small launchers for the commercial market, including CASC, Long March and Chinarocket which is developing its Smart Dragon-1 which could stage its first test flight over the next few months.