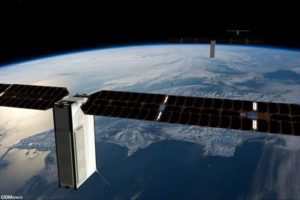 Danish CubeSat manufacturer has apparently slow-rolled manufacturing of 200 Pearl CubeSats for the Australian Stock Exchange-listed New Space company Sky and Space Global after two payments thought to be worth U.S.$2.3 million have been missed, according to a report in Space News.
The total contract between GomSpace and Sky and Space Global is worth U.S.$3.45 million, with Sky and Space Global having paid the first tranche worth approximately U.S.$1.15 million to the Danish manufacturer in the third quarter of 2018. The remaining two other payments were due at the end of 2018 but are now past-due and as a result GomSpace warned shareholders on 4 January 2019 and said that it was negotiating a new payment schedule with Sky and Space Global. In the meantime GomSpace has slowed work on the Pearls CubeSats.
"We had told the market that we expected that to be paid in December, and that has not happened," Niels Buus, GomSpace CEO, said in an interview with Space News.
"All our progress is made according to milestone payments, and that is also the case with this project," Buus also said, adding that, "We really support Sky and Space [Global]…There is no bad situation between us in any case."
Sky and Space Global were contacted by Space News but did not respond to a request for comment. SpaceWatch.Global also reached out to Sky and Space Global for their perspective but had not heard back at the time of publication.
Sky and Space Global had three experimental satellites launched on board an Indian Space Research Organisation (ISRO) PSLV in June 2017, and has previously said that it plans to launch up to 200 of its Pearl narrowband communications CubeSats by 2020 on board Virgin Orbit's LauncherOne starting in mid-2019.