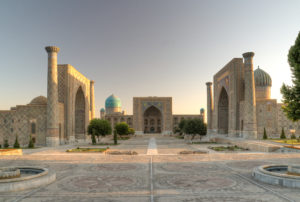 The Government of India headed by Prime Minister Narendra Modi has approved the agreement on cooperation in space research for peaceful purposes with Uzbekistan, according to a Trend News Agency report citing local Uzbek media.
The agreement was signed between the two countries on 1 October 2018 during the first official visit of Uzbek President Shavkat Mirziyoyev to India.
The document strengthens cooperation between the two countries in the development of space technologies, Earth observation, satellite communications, positioning, navigation, and timing (PNT) services, and space exploration and science research.
Uzbekistan and India will create a joint working group to develop a plan for joint activities and measures for the implementation of the agreement.
"Signing of the agreement will open a new chapter in bilateral relations, as both sides will now leverage complementary strengths spurred by a significant convergence of mutual interests in science and technology," an official statement after the agreement signing read.
As SpaceWatch.Global has earlier reported, Uzbekistan is also cooperating with France in space and satellite development, and is in ongoing discussions with Thales Alenia Space regarding that company's assistance in building an Uzbek space industrial base and other capacity building projects. Thales Alenia Space and Uzbekistan are also in discussions about the possible Uzbek acquisition of a high-resolution Earth observation satellite.
In mid-November 2018 Uzbek envoy to Russia Botirjon Asadov announced that Uzbekistan is developing its very own space programme and has actively been developing international cooperation in this sphere. The proactive Uzbek space efforts are a reflection of the significant foreign policy changes and ongoing domestic reforms underway in Uzbekistan since President Mirziyoyev came to power in 2017 after the death of President Islam Karimov, who had ruled the Central Asian state since it broke away from the former Soviet Union.
More recently, the Russian state space corporation, Roscosmos, offered Uzbekistan cooperation in monitoring space debris and Earth observation satellites, as well as involvement in joint projects on satellite technology development.