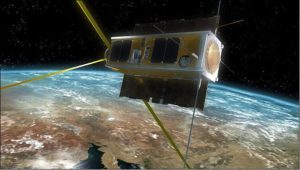 The Royal Australian Air Force (RAAF) is making preparations to carry out its Mission 1 (M1) and subsequent Mission 2 (M2) CubeSat and small satellite demonstrations in cooperation with the University of New South Wales (UNSW) Canberra, according to a report in The Australian newspaper.
M1 and M2 are follow-on missions to the successful Buccaneer CubeSat launched in November 2017 and developed by Australia's Defence Science and Technology (DST) group, also in cooperation with UNSW Canberra.
The aim of the RAAF project is to develop expertise in satellite technology within the service, demonstrate innovative applications and capabilities, and demonstrate rapid manufacturing and development of satellite systems.
"The main goal from an air force perspective is the development of human capability, so M1 and M2 won't be conducting operational missions for Defence, but they will develop skills for satellite operations from the ground up," Wing Commander Steve Henry, RAAF, deputy director for surveillance of space at air RAAF headquarters, told The Australian.
"The Australian space industry is not new in itself but building satellites from start to finish is a new capability and having our people learn about those things is important to us,'' he added.
The initial M1 satellites will carry out over the next few years technology demonstrations and research activities in space situational awareness (SSA), communications, and surveillance. The M1 satellites will use commercial off-the-shelf technologies that GPS receivers along with a software-defined radio and flight computer developed by UNSW Canberra.
"The main objective is to trial the ability to re-program the radios while the vehicle is in low earth orbit, enabling them to perform different functions. This will provide a level of flexibility and agility that is at the heart of what is termed 'new space', giving us the ability to re-task the satellite for different missions," Wing Commander Henry said, quoted in The Australian.
"Space traffic management is becoming increasingly important, so our ability to effectively command and control what we have in space and to report its exact location allows us to be proactive in preserving the space environment."
The subsequent M2 satellites are planned for launch in the middle of 2019, and will comprise two larger and technologically capable platforms compared to the M1 CubeSats. The RAAF M2 mission is again being done in cooperation with UNSW Canberra, as well as also with Western Sydney University who will provide neuromorphic sensors (sensors that mimic biological vision systems found in insects and animals). As well as applying lessons learned from the M1 satellite demonstrators, M2 satellites will also act as testbeds for more diverse and sophisticated sensors and payloads for missions such as space-based maritime domain awareness in support of RAAF P-8A Poseidon maritime patrol aircraft and MQ-4C unmanned aerial vehicles (UAV's).
"We would never 'do' space for space's sake if something can be done easier or better in another domain, because going into space is still very challenging. But if something can be done better from space, we should pursue it," Wing Commander Henry said. "That leads us to ask whether we can do maritime domain awareness better from the air or from space and what the interdependencies would be. If we determine they could work better together, then it's a win for Australia."
Wing Commander Henry is also the military liaison officer to the newly created Australian Space Agency (ASA), and noted that it and the RAAF are working very closely in the fields of satellite communications, positioning, navigation, and timing (PNT), and in SSA capability.
"We absolutely have certain capability needs that are specific to Australia and which we want to support for ourselves…Our key goal is to avoid the duplication of effort, because we don't want to be trying to do the same thing at cross-purposes," he told The Australian.
"There are very many opportunities for us to work together and we want to make sure that we're doing that from the ground up. There are new ways to do business that weren't around when most of the world's satellite infrastructure was developed and as much as possible we will leverage those technologies. I think our timing is perfect," said Wing Commander Henry.