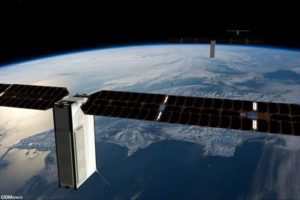 London-based and Australian Stock Exchange-listed S-band satellite operator, Sky and Space Global (SAS), has confirmed that it has signed a binding Reseller Memorandum of Understanding (MoU) with Globe Teleservices (GTS).
GTS is a private company based in India and an international telecom services provider offering a comprehensive range of communication services, from wholesale data and voice to mobile video and Voice-Over-Internet Protocol (VoIP) in Asia and Europe.
The MoU will see SAS and GTS collaborate on how GTS will become a key reseller of the SAS solution with the intent for GTS to include the SAS Solutions in its offering and distribute communication services based upon the SAS Solutions. It also supports the SAS business global rollout model of establishing a localised and international reseller network which will enable efficient provision of SAS's connectivity solutions to equatorial locations and becoming a leading player in the satellite communication market.
Sky and Space Global's Managing Director and CEO, Mr. Meir Moalem, said, "We are happy to move forward with Globe Teleservices following our meetings at Africa last month. This agreement further expands our commercial coverage for the Indian peninsula and the surrounding region."
Founder and Managing Director of Globe Teleservices, Mr. Ashutosh Agrawal, said, "We are excited to have announced this pro-competitive transaction and look forward to delivering benefits to customers from the enriched product offerings and the expanded networks of the merged entity. The move would further strengthen the position of the company to give us a global recognition."