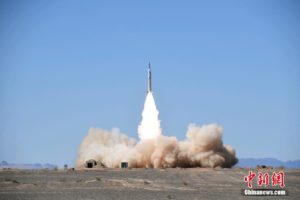 According to Euroconsult's latest report, China Space Industry 2018, the China space value chain had an estimated size of more than U.S.$16 billion in 2017, with the downstream market accounting for just over 85%. Satellite Navigation, one of the key satellite applications in China, was the main revenue generator in 2017, ahead of Satellite Communications and Earth Observation.
This premier edition of the report provides a deep-dive analysis of the current Chinese space ecosystem and future expected evolutions, from upstream to downstream, and covers each of the key satellite applications in China: Satellite Manufacturing, Launch, Satellite Communications, Earth Observation, Satellite Navigation and Space Exploration.
For each of the markets, key current and potential future players expected to have an impact on the ecosystem are profiled, including details on their strategies, funding, technological competencies and potential future plans.
"China's space industry is rapidly evolving, with an increasing number of nominally private companies competing in different parts of the space industry in both China and abroad, and with the Chinese space industry starting to play a bigger role in cutting-edge technology," said Dimitri Buchs, Senior Consultant at Euroconsult and editor of the report.
"Changes are occurring at a rapid pace across the value chain, for both upstream and downstream activities and for all application domains."
Key highlights per application domain include:
* Science and Exploration: China wants to cultivate its international leadership in space and the country has started a long-term manned space program with the Moon as a priority for space exploration and other exploration programs including a Mars mission to be confirmed. On the space science front, it has not been considered a main strategic priority area by China but the country is seeking to ramp-up its activities.
* Satellite Communications: Capacity leased by GEO satellite operators has remained largely stable in China in recent years, with demand for regular capacity dominant today. Historically the market has been dominated by China Satcom, the state-owned satellite operator, but an increasing number of Chinese companies are considering making a move into the satellite operator sphere, generally with the intention of providing services outside of China, including Huaxun Fangzhou (CCT Satcom) and Tatwah Group. Beyond this, several private constellation projects may also come to fruition (e.g. Commsat, OK Space…).
* Satellite Navigation: Given the strategic importance of satellite navigation to a variety of industries, China has for some time made it a goal of reducing its reliance on foreign navigation systems, thus the implementation of the Beidou program. The latter system is expected to achieve global coverage by 2021 with coverage of Belt and Road countries by YE 2018.
* Earth Observation: One of the most established private space industries in China, with the first nominally commercial/private Earth observation satellites having been procured in the early 2000s. Integration is continuing towards value-added services (VAS) development, even if still in the planning phase. Development of constellation fleets in both spectral and spatial resolutions is an opportunity to foster new services development. Several EO companies are quite well established (21at, Charming Globe, Space View, etc.), in parallel with several newcomers having the ability to design and operate EO satellites (Qian Sheng, etc.).
"The current changes in the space ecosystem are being brought about using different strategies, such as the opening of some markets to private enterprises and greater competition among incumbents, all of which are aimed at fostering greater innovation among companies within China," said Blaine Curcio, Senior Affiliate Consultant at Euroconsult and expert on the China commercial space market.
"Moving forward, it is expected that the Chinese government will continue to open different parts of the space industry. Indeed, with the state-owned giants more recently focusing on grander ambitions, such as China's space station, the Chang'e moon mission, and eventually human missions to the Moon and Mars, it is possible that much of what is considered traditional commercial space, and even new space, will become more open to the private sector as the state sets its sights on bigger targets."