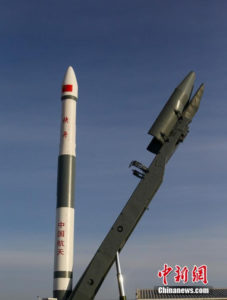 Chinese commercial satellite launch vehicle company ExPace successfully launched an experimental positioning, navigation, and timing (PNT) satellite called Centispace-1-S1 on board a Kuaizhou-1A launch vehicle from the Jiuquan Satellite Launch Centre (JSLC) on 29 September 2018.
The launch from JSLC in the Gobi Desert took place at 04:13 universal time (12:13 local), and Chinese space officials announced mission success within an hour after the launch.
The 20-metre-tall, 1.4-meter-diameter Kuaizhou-1A launch vehicle is a solid-fuelled rocket that has a liftoff mass of around 30 metric tonnes and is capable of lifting a 200kg payload in to a 700 km Sun-synchronous low-Earth orbit.
Centispace-1-S1 is a small experimental satellite and is a pilot system for a LEO navigation and positioning enhancement system being developed by Beijing Future Navigation Technology Co., Ltd. The satellite was developed by the Institute of Micro-satellite Innovation, which as a part of the Chinese Academy of Sciences (CAS).
ExPace was jointly established in February 2016 by China Aerospace Science and Industry Corporation (CASIC), a state-owned defence company and missile manufacturer, and the China Sanjiang Space Group. This business arrangement means that ExPace cannot be considered to be a truly private company, unlike companies like OneSpace and Landspace.
The Kuaizhou-1A was first launched in January 2017 lifting a Jilin-1 Earth observation video satellite for Chang Guang Satellite Technology Co. Ltd. (CGST), a geospatial intelligence company with Chinese government connections that is building a constellation of similar satellites.
One of these Jilin-1 Earth observation video satellites captured the launch of the OneSpace suborbital rocket from orbit last week.
According to Andrew Jones of GBTimes, ExPace has signed contracts to provide launch services for further Jilin satellites, and is working on much larger Kuaizhou-11 and -21 launch vehicles. The Kuaizhou-21, with a diameter of 4.5 metres, according to Chinese media sources, will be capable of sending 20 metric tonnes into a low-Earth orbit.
In December 2017 ExPace secured approximately U.S.$182 million in funding for the development and launch of its other Kuaizhou solid-fuelled launch vehicles.
This ExPace launch the latest in a series of launches undertaken by a number of Chinese companies in 2018, some of which can be regarded as New Space companies and others that are subsidiaries of, or subsidized by, large Chinese state-owned companies.
ExPace intends to provide low-cost and rapid launch services for Chinese and foreign small satellite customers from a new launch site at the Wuhan National Space Industry Base in the capital of China's Hubei Province that was created in 2016.