Japanese company Canon Electronics has outlined its plan to become a turnkey space venture that builds and launches rockets from its own space launch site, and building and operating its own Earth observation satellites and selling the satellite imagery on the open market.
In a wide-ranging interview published in The Japan News– the English-language edition of the Yomiuri Shimbun – Canon Electronics President Hisashi Sakamaki revealed that his company best known for cameras and printers is looking to expand its portfolio into the New Space sector.
"I want to launch rockets. I want to build new rockets and our own launch site as well," Sakamaki told The Japan News. "We've already decided on the site."
According to Sakamaki, Canon Electronics has been, "quietly developing technologies for rockets and satellites," and that, "We've been thinking about whether we could turn this into our main business."
Canon Electronics is the majority partner in the Japanese New Space launch enterprise Space One Company, along with IHI Aerospace Company, the manufacturer of the Epsilon launch vehicle; Shimizu Corporation; and the Development Bank of Japan. Of these four, Canon Electronics has provided 70 per-cent of the funding for Space One Company.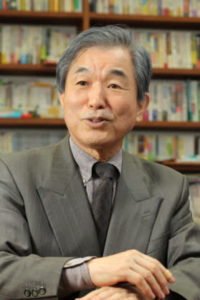 Space One Company became operational on 2 July 2018, and has announced that it intends to start launching aversion of the Japanese Aerospace Exploration Agency's (JAXA) SS-520 mini-launcher in 2021, and intends to achieve 20 launches a year by the mid-2020's.
As well as being a 70 per-cent stakeholder in the Space One Company, Canon Electronics is also building its own constellation of Earth observation Cubesats in its own laboratory that has grown from three employees when it was established in 2012, and now has over 100 engineers and technicians.
"[Y]ou can't make money by just working one by one, like just satellites or just rockets. You have to do all those things comprehensively," Sakamaki said. "It's called space time and space prices. If you look at it from the perspective of an office equipment business like us, it takes 10 to 20 times the amount of time, and it costs 20 to 100 times the price."
Asked whether Canon Electronics space ambitions are being funded by its parent company, Canon Inc., Sakamaki said. "We're going to do it with money we've made ourselves. We're not relying on the parent company."
Sakamaki also provided details about the Space One Company's own launch site located near the town of Kushimoto on the Kii Peninsula on the southern tip of Honshu Island. JAXA operates two launch centres, but, Sakamaki says, "we can't use them freely. So we thought we should make our own. If we can launch rockets any time we want, we'll get customers."