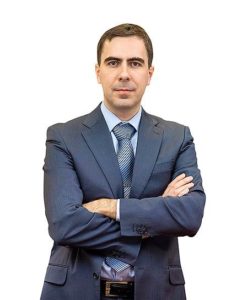 SpaceWatch.Global Contributor Evgeniy Ryzhkov met with Pavel Pushkin, CEO of CosmoCourse –  a private Russian space company that develops its own reusable suborbital space complex, to talk about competition within the emerging space tourism industry as well as the challenges and opportunities of doing space business in Russia. 
Today we are publishing the second part of the conversation covering the details of the future space flight.
A significant ground infrastructure is needed for the launches maintenance. Where are you planning to launch from?
Previously, we asked the Ministry of Defense to allow us to use the Kapustin Yar test site. We were told that they had a very tight launch schedule as the polygon had recently been reactivated thanks to the State Armaments Program. The Ministry of Defense was willing to let us use the place, but they gave us a fair warning that we would have to take a wait-and-see attitude, until the local tests, which are held constantly, are over. We were also advised to discuss this issue with Roscosmos.
So we did that. Roscosmos immediately volunteered to help and offered both of its cosmodromes – the Vostochny Cosmodrome and Baikonur. But the first one wasn't good for us because of its remote location and topography. Therefore, about a year ago we flew to Baikonur and did a full site inspection there. We were even offered some good launch sites, one of which was almost perfect – it was possible to create a fantastic facility for suborbital tourism there.
But what stopped us? First, poor tourism and logistics infrastructure of Baikonur. For example, at the "Krainiy" airport (at the city of Baikonur), there were twice as few seats in the airport terminal than in an average airplane. Direct flights from Moscow are very rare, and the schedule is constantly changing. We are also concerned about the question of property. It turns out that the property on Baikonur does not belong to Roscosmos or to the Russian Center for Operation of Space Ground-Based Infrastructure, but to 20-30 different owners. And the areas are divided in a very strange way – a building has one owner, the fence around it has another owner, and the water supply has yet another owner. In addition, Kazakhstan owns all the facilities and territory at the cosmodrome, the Russian Federation only rents them. There is also an issue with the immigration and customs services of Kazakhstan, which do not work very well. They can prohibit the import of any equipment or deny access to their country, giving no reasons. There have been instances of that before. If Kazakhstan offered us cooperation, we would think about it. What is more, the trip to Kazakhstan is time-consuming and expensive.
For these reasons, we decided not to go to Baikonur, but to create our own private cosmodrome in central Russia. Now we are working on this with two large regions – they are among the leaders of domestic tourism. It takes about one hour and a half to get there from Moscow by plane. We are considering several sites.
One place is located near the capital of the region. We are trying to find the perfect place, where people would come and see the space. The airport should be nearby in order to make it possible to shuttle customers by bus or helicopter, which would be based at the cosmodrome.
We will get a nice bonus if we are located in central Russia: in addition to people who will come there to make a suborbital flight, there will be an influx of tourists who will come to visit the first private spaceport of Russia. We're talking about a very big market, and the regions are directly interested in it and are ready to help. The spaceport will be a small and compact facility. We can easily solve the issues of ecology, the regions are prepared to supply electricity to the future spaceport.
Right now we're in an active negotiation phase. I think in a few months we will decide on the location. Moreover, we are working on designing the infrastructure of the cosmodrome, including the communications, launchpads, equipment.
What is the current status of your project? When are you planning to start ground and flight tests of your system?
Now we are at the preliminary design phase, we have a preliminary design and we will move ahead soon. The first ground tests are scheduled for 2020, flight tests for 2021. Now we are starting to test the critical parts of the rocket.
How are you planning to build the marketing strategy and find clients in a competitive environment of the space tourism market?
– Marketing our products is undoubtedly very important to us. We have talked with the specialists who sell tickets for Virgin Galactic. In general, this is a very straightforward market. Customers who want to fly in space just know what companies provide this service.
The market is very tight – there are Virgin Galactic, Blue Origin and our company. The first two have already had flight tests, and they will enter the market earlier. But we offer interesting services – twice the duration spent in zero-gravity, twice as high an altitude for the same cost. We hope that we will be able to attract some of the tourists who will have flown on the vehicles of our competitors, and we also count on tourists from China. For some unknown reason, Americans are not going to sell tickets to the Asians.
Of course, we will actively promote ourselves. In this industry, if you launch a rocket and it lands successfully, everyone will know about it, and you do not need to spend money on TV commercials. We will use targeted advertisements, distribute newsletters. And most importantly: we have not got anything ready yet, but people are already calling us and asking if they can book tickets, but we just don't sell them yet.
How much will the ticket cost? Will it include getting the customer trained for the flight?
The cost of the suborbital flight will be about 250 thousand dollars. The increase or decrease is possible closer to the beginning of the launches, but the second option is more probable as we need to win in the competitive struggle. We know a lot in theory, but we do not know how the rocket and its equipment will behave when used multiple times and how the post-landing processing will go. Something that we aren't aware of now might become obvious later on.
The ticket price includes a preliminary medical examination, a three-day stay at the cosmodrome before the start, a final medical examination and briefing.
What are the health requirements for the candidates?
The health requirements will be quite benign, and extensive training is not planned, only preflight briefing. For example, there is an opportunity to fly aboard the Mikoyan MiG near Saratov. It takes an hour to undergo a medical examination and briefing, despite quite heavy reverse g-loads. Those who are about to experience a brief period of weightlessness on the IL-76 MDM airplane have a short preflight briefing as well.
Before the flight we will tell people how they should behave in zero gravity, what can be done and what can't in order to avoid serious injury. We'll instruct how to push off correctly, the customers will be allowed to fasten and unfasten the seat belts, etc. There will be weightlessness, but the force of inertia won't go away.
What will be written in the flight certificate? If a client has this certificate, will it mean that he or she have become a cosmonaut or an astronaut?
We haven't worked it out yet. Of course, it won't be the equal to the status of a cosmonaut or astronaut of a national space agency. But it will certify that a person has made the flight in space, has left the Earth and spent some time in space. And this person will surely be able to  consider himself or herself an astronaut, in some sense.
What kind of infrastructure are you planning for the customers' service? How do you plan to organize transportation of future space travelers to the launch complex? Where will they live before the flight, where will they have their meals, and will you sell merchandise such as flight suits or souvenirs?
Later this year or early next year, we are going to start looking into the customer service concept in more detail.
Customers will be accommodated in a hotel near the cosmodrome, just a few kilometres away so that they can see the launch complex out of their hotel room window. The hotel must include a medical center. Maybe we'll install a centrifuge to let our customers feel the g-loads. Everything should be decorated in a space style – people should understand that the place is connected with cosmos. We'll take the customers to have a look at their rocket and the spacecraft the day before the launch, we will show how the rocket is assembled and how everything works.
We will organize lectures, excursions, show films. Perhaps we will offer space food. Maybe we'll build something like a Turkish bungalow, which we'll decorate in the appropriate style and name it after famous Soviet engineers, Sergei Korolev, Alexei Mishin, Valentin Glushko, Vladimir Chelomey. We'll be certainly selling souvenirs, T-shirts, flight suits. We are ready to create a museum of technology in cooperation with with the Ministry of Defense, like the famous Kubinka Tank Museum. We are also ready to organize additional leisure activities such as fishing. In this case the regional department of tourism will take part in our initiative and attract their investors.
People who will come to see the cosmodrome or our customers' relatives will be able to use some of the services – the centrifuge, excursions or lectures. Everything will be done so that people wouldn't spend their time in vain and would feel the atmosphere of space travel.
We'll prepare beautiful-looking individual flight suits for the crew members. During the flight we will take photos and videos of the crews in zero gravity. After the flight, we will organize a meeting with the crew, inviting their families. Moreover, for the first crews a press conference will be organized.
You know, it has to be a show, an unforgettable journey that people would like to embark on again or recommend to their friends and family. When we make a decision about the location of the cosmodrome, we will focus on these questions.
Does CosmoCourse have a strategy for attracting young and talented professionals for traineeship and to join the company? What personnel do you have and do you plan to employ more people?
We try to attract young professionals and help them. A lot of people who graduated from their universities a year or so ago or even senior students work at our company. We are ready to invite students for training internships. We have an agreement with the Bauman Moscow State Technical University that their students can do their training internship at our company. I was contacted by this university the other day and informed that they were ready to send in their students, although not with the specialization required by us.
At the same time, we make high demands for young professionals – they must be active, intelligent and willing to work. We have quite a rigorous recruitment. Our team is young. The average age is about 30-33 years, despite the fact that some of our workers are 40 and even 60 years old. A lot of young people work as leading specialists.
More than 30 people in our company are engineers and designers. We plan to increase the number of employees to 60. Soon we will expand office space and make some repairs. Then, we should be able to employ new specialists.
About the interviewer: Evgeniy Ryzhkov has been researching the Japanese space industry in Japan for two years and worked as a technical translator from Japanese in the industry. Currently, he is the corresponding editor of the Novosti Kosmonavtiki magazine.
СохранитьСохранить