by Dmitry Oliferovich, Editor SpaceWatch Russia&CIS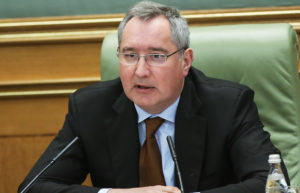 Last month ex-deputy prime minister of Russia Dmitry Rogozin was appointed Director General the Roscosmos Corporation by Vladimir Putin, replacing Igor Komarov, who had headed the agency since 2015.
Mr. Rogozin has overseen Russia's space industry since 2011. He was placed under US sanctions over the Ukrainian crisis some years ago.
Some industry experts claim he does not possess the technical expertise necessary to work in the industry he now heads. His brazen suggestions the US astronauts better get to the ISS on their own – 'I suggest that the USA bring their astronauts to the International Space Station using a trampoline' – did little to earn him respect in the West.
The Russian space sector has suffered a number of painful setbacks over the last few years that could potentially damage the country's still solid reputation as a market leader in commercial launches. Failed rocket launches have become a hampering issue since around 2011. After one such incident – an unsuccessful launch from the nation's brand new Vostochny Cosmodrome – Rogozin, then the curator of the space industry, received a strict reprimand from Prime Minister Dmitry Medvedev. It had been the tenth failure on his watch.
On the other hand, Roscosmos is now facing growing competition from the rising new players – SpaceX, India and China. Indian Space Research Organisation (ISRO) made headlines last year when their PSLV rocket successfully deployed a staggering 104 satellites in a single launch.
The number of satellites launched on the Proton-M heavy lifter, Russia's space workhorse, has seen a steady decline since 2011. Another crucial rocket, the Soyuz-2, has been doing somewhat better with 3 failed and 3 partially failed launches since 2011. On top of that, the Progress MS-04 resupply vehicle scheduled to deliver supplies and experiments to the ISS, exploding over Southern Russia in November 2016. The investigation commission found the cause of the failure in a malfunctioning pump in the rocket's third stage. The failure could have been caused by injection of foreign particles into the pump or violations during the assembly of the engine. It was the second failed launch of a Progress resupply vehicle since 2015, the previous one being Progress M-27M, when a malfunction of the third stage shortly before separation caused the cargo ship to spin out of control, followed by uncontrolled reentry a few days later. These sad events sparked comments from inside the industry claiming that there were numerous instances of poor manufacturing standards.
As if the above mentioned hurdles weren't enough, the construction of Vostochny Cosmodrome was marked by several corruption scandals, with at least 165 million US dollars estimated to have been embezzled during construction. Construction teams working on the site sent a pledge to Vladimir Putin to help them get their salaries after prolonged payment delays.
In late 2015 President Putin signed a decree that abolished Roscosmos which was replaced by a state-run corporation, in an attempt to have stricter control over the nation's state space sector, which had in the recent years suffered from fraud, abuse of authority and document forgery, according to Rogozin himself.
Thus, Mr. Rogozin has taken over a space industry troubled by a string of issues, many of which require speedy resolution lest Russia lose its status as a leading global space force.
For starters, Rogozin has recently initiated a major reshuffle within the industry, according to a recent report in the Russian Kommersant newspaper. Thus, Nikolai Sevastyanov, who was president of Energia Corporation in 2005-2007 and has been General Designer of Gazprom Space Systems since 2000, has been appointed Acting Deputy Head of the CEO of the Roscosmos State Corporation. Given his vast experience and space technology expertise, his appointment might have been a premeditated move as Rogozin himself is not a qualified space industry professional.
As for private space business, it is likely to have a potential to grow in Russia if its products and services find a demand and if the government creates a competitive environment for private space enterprises. The private space sector in Russia has not seen much support from the government over the recent years, though, with some industry experts saying one should not place high hopes on the development of strong private space enterprises in the foreseeable future. That said, the activities of Glavkosmos Space Launches, a commercial missions operator using Soyuz-2.1 launch vehicles launched from Russian spaceports, are unlikely to be impacted negatively unless another launch failure occurs, because, as Mr. Rogozin said in a recent interview, Russia will adhere to its international contractual obligations.
In 2018 Russian S7 Group, owner of S7 airlines, purchased the Sea Launch mobile launch platform, which had been mothballed since 2014. The current problem is the unavailability of Zenit launch vehicles. Due to strained relations between Russia and Ukraine, which manufactures Zenit, the launch date currently scheduled for December 2019, is likely to slip.
What should be taken into account, though, is the cutting of the Federal space budget, which should hamper any large scale support of private space enterprises by Roscosmos, which is now facing the necessity to keep its own subsidiaries occupied filling orders, rather than issuing tenders for private companies to contend for.