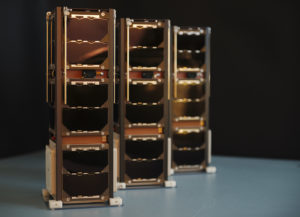 Sky and Space Global, the European-Israeli New Space satellite communications company that is registered on the Australian Stock Exchange, has announced that it has signed a Memorandum of Understanding (MoU) with International Air Traffic Automation Systems (IATAS) for the use of its satellite network by the air traffic company.
Sky and Space Global is developing a constellation of communications nanosatellites that will serve the burgeoning Internet of Things (IoT) and Machine-to-Machine (M2M) data connectivity market. Under the terms of the MoU, IATAS has the option to incorporate the Sky and Space Global nanosatellite constellation into its platform that is designed to be used by the commercial aviation sector for real time air traffic control surveillance, interactive airport mapping, remote tower operations, automated air traffic control systems, anti-collision software, and digital black boxes.
The MoU also includes a provision for both Sky and Space Global and IATAS to cooperate on commercial and technical opportunities either via a joint venture or directly with a commercial airline. IATAS will also carry out a demonstration of how it intends to use the Sky and Space Global nanosatellite network on a commercial airplane and with an Air Navigation Service Provider (ANSP).
"The agreement with IATAS is yet another example of the innovation and disruption SAS [Sky and Space Global] brings to the market. We are delighted to have the opportunity to work with IATAS and provide our services to the commercial aviation communication services sector," said Meir Moalem, the managing director and chief executive officer of Sky and Space Global.
Ori Shloosh, CEO of IATAS, said, "IATAS is excited to collaborate with SAS and be able to offer sustainable and cost-effective solutions and services to the aviation industry. This multi-billion dollar market is currently underserved and there is a great potential to generate high revenues as a result of regulatory mandates being implemented in the next few years. IATAS's array of solutions include real-time air traffic control surveillance, moving airport maps for pilots, remote tower control, automated air traffic control systems, digital black-boxes and anti-collision software within airports. The entire platform will benefit from the integration of SAS's unique and secure communication nano-satellite based services, which will position IATAS's solutions in a class of its own. In the coming months, IATAS and SAS will engage with end user clients such as airlines, air navigation service providers (ANSP) and airports to demonstrate and roll-out the new technologies and capabilities."