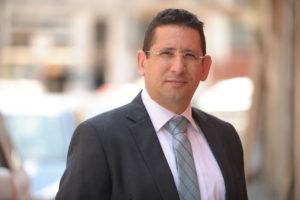 Sky and Space Global (SAS), the UK-Israeli New Space company registered on the Australian Stock Exchange, announced that it has signed a Memorandum of Understanding (MoU) with Chinese company Beijing Commsat Technology Development Co. in order to tap the massive Chinese Internet of Things (IoT) market.
Commsat is a Beijing based satellite communications company working to develop a Low Earth Orbit (LEO) constellation to provide IoT services to users and corporations on the Chinese mainland. Sky and Space Global is a nano-satellite maker aiming to operate a communications infrastructure based on nano-satellite technology. It successfully launched its first three nano-satellites, known as the "3 Diamonds," in 2017.
Sky and Space Global will collaborate with Commsat to "test and explore" how its advanced nano-satellite technology can be incorporated and utilised to significantly advance and enhance the current Commsat network offering, according to the terms of the MoU.
"We at Commsat believe that we can leverage SAS' capabilities as a pioneer in nano-satellite and communications technologies, with our own extensive connections in China and existing customer engagements for machine-to-machine and Internet-of-Things services," Xie Tao, CEO of Commsat, said in a report in SmallCaps.
According to the report in SmallCaps, if tests prove successful, the technology and service capabilities offered by Sky and Space Global could secure a firm foothold in China thereby opening the door to one of the largest consumer-focused markets in the world.
The report indicates that the two companies have said they intend to explore the possibility of joint provision of IoT and additional narrowband communication services in China.
Commsat has confirmed it will collaborate with customers with regards to IoT across many sectors, including heavy machinery, containers, logistics, intelligent hubs and wild animals tracing.
"We have always believed that China will be an important source of demand for our technology and have identified Commsat, a rising star in the Chinese aerospace community, as a partner to embark on these efforts," said Meir Moalem, CEO of Sky and Space Global, in SmallCaps. "This important collaboration will allow us to further expand and promote our business in that part of the world while assisting Commsat to deliver M2M and IoT services in remote locations and to meet growing demand in China."