Russia and other independent republics of the former Soviet Union enjoy a proud and impressive space heritage, from Sputnik and Yuri Gagarin to the Mir Space Station and the unparalleled launch record of Baikonur Cosmodrome.
While national space programmes receive the most public attention, however, Russia and the Commonwealth of Independent States (CIS) are also countries where young engineers, scientists, and entrepreneurs are building something new and exciting in space — NewSpace companies — and SpaceWatch Russia & CIS has been created as a part of SpaceWatch.Global of ThorGroup GmbH, Switzerland, to provide exclusive coverage of these individuals, their companies, activities, and achievements for a global audience.
The NewSpace movement and economy have proven itself to be more than a passing technological and investment fad and has in fact spread from its entrepreneurial and maverick grassroots in the United States to all corners of the world. NewSpace companies and clusters can be found all across Europe as well as in Dubai, Singapore, and Australia. They can also be found in Israel, India, Japan, and Thailand, and so it should not be surprising that they are not only found but are flourishing, in Russia and CIS countries.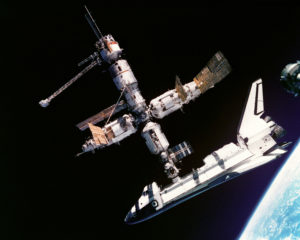 SpaceWatch Russia & CIS is here to cast a spotlight on the NewSpace economy in Russia and CIS countries, as well as government initiatives and as of today will be published in Russian and English.
As part of our launch, SpaceWatch Russia & CIS will be free to read for our audiences for now, but it will be our intention to make it available on a subscription basis in the near future.
As the publishers of SpaceWatch Russia & CIS we hope that you, our readers, are just as excited as we are about this important and exciting new venture, and we look forward to providing you with exclusive coverage of the NewSpace economy in the place where our journey to space first began in 1957!
Andrey Maksimov Dr. John B. Sheldon
Co-Publisher Co-Publisher
SpaceWatch Russia & CIS SpaceWatch Russia & CIS
SpaceWatch.Global