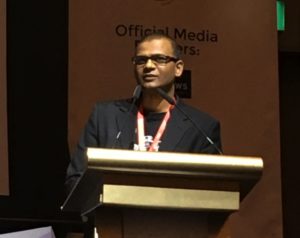 The Google Lunar XPrize (GLXP) may have ended, but the teams that have invested nearly a decade into their lunar dreams have vowed to continue to reach their goals. TeamIndus had made huge progress towards the launch deadline of 31 March, 2018, and inspired the people of India and beyond with their ambitious project. We caught up with Founder and CEO Rahul Narayan to find out his reaction to the development and what happens next for TeamIndus.
Five weeks back GLXP finished without a winner. TeamIndus was the last remaining competitor with realistic chances. Without looking back too much, can you tell us briefly what triggered your decision not to launch in the competition?
GLXP will close without a winner who's landed on the Moon, but I believe the competition itself was a winner. GLXP has been leading the global narrative on NewSpace and the GLXP teams have sparked space as a sunrise industry in many countries. We had a few constraints which made it difficult for us to launch within the competition timeline. Having said that, we have built the capacity and capability to kick starting a globally competitive space engineering industry – that's our goal now. With that in mind, we are exploring global partners for our next Moon mission, given the additional time we are also looking at the ability to deliver more payload to the Moon and consequently a different launch vehicle.
TeamIndus raised a huge STEM education campaign in India and inspired many young people around the world. What is your take away from the XPRIZE?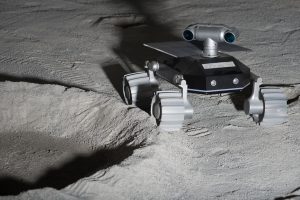 We believe GLXP brought the focus back to the Moon. Today, countries like USA, The European Union, China, Japan and India are actively involved in spearheading the next many lunar exploration missions. The impact of the competition has been stupendous. It disrupted the industry enabling small teams to aim for what was considered largely a government domain. It made Space cool again. There is a need today to make STEM cool, the NexGen have to be excited with the potential of it. We're excited with the response we've had from youth all over the world and India to be a part of this moon mission – from designing and building scientific payload to creating platforms for scientific engagement – we intend to keep doing this.
What comes after the XPRIZE, taking into account that you have a space qualified and developed moon lander?
The Google Lunar XPRIZE was the catalyst to get us started on this journey. Over the course of seven years, we have successfully completed qualification tests of our spacecraft and rover ECA. At this point we can put together the flight model of the spacecraft, and in under six months, we will be ready to launch once we have an updated launch date. Our engineering and development fundamentals are based on first principles which gives us complete control over our spacecraft and our mission. It is a logical progression for us to now continue in the space domain. Space exploration will be the precursor for sustainable utilisation of space resources as well as making space a destination that common people can add to their itinerary in the near future. We continue to work closely with global partners, customers and the wider science community.  We have created a knowledge base and capabilities that we will now utilise to mount multiple missions over the next 5 years to demonstrate not just the capability, but also the repeatability, precision and the ability to send back amazing science data beyond the Earth-orbit.
When do you expect that Team Indus will return to a normal flight schedule and mode of operations after the XPRIZE?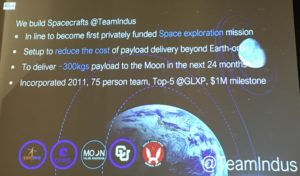 Irrespective of the competition status, we continue to work and develop our in-house infrastructure and technological capabilities. Space is a global industry and we seek to work with multiple associates to create the most optimal configuration of partners. Moving forward we are focusing on expanding our company's horizon in terms of human exploration beyond Earth-orbit. We will be tying up with international partners, suppliers and payload customers.
Do you foresee any increased challenges being an Indian-based entity to launch your mission from foreign soil? If you consider launching with a U.S. launcher, will you open a U.S. branch?
We are a global organisation catering to a global market. We will have branches in all locations where there would be a concentration of our customers. I believe space as an industry comes with its set of challenges and we're gearing up to address them.
Going commercial means you see a "moon payload market". What size market do you expect this to be?
With the Moon back in focus, lunar delivery services are expected to grow exponentially in the next 5-7 years. The cislunar economy, primarily driver by payloads is expected to be a multi-billion-dollar market by 2025.
What will be your USP as you are competing with other companies such as Moon Express, Astrobotics, Ispace, PTScientists, Masten, Blue Origin, and Airbus?
We have a unique payload integration facility which enables low-cost access to the lunar surface for an entire suite of scientific and commercial payloads. The payload integration technology is scalable and is expected to lower the delivery cost up to a factor of 8 times by 2022. This empowers us to lead the future lunar payload delivery services globally.
What is your price per kg/lunar surface? What is your service offering for your customers beside transport?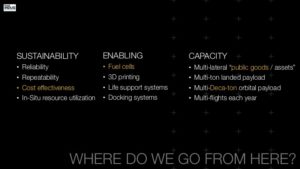 For our first mission, we are carrying a variety of payload. Depending on the payload, the price varies form ~$1.2M/kg to ~$2M/kg. The goal is to reduce it to ~$0.15 – $0.3 M/kg as a sustainable option. We have worked closely with our payload customers on mechanical, data and electrical and ground segment interfaces. We also provide, custom design and fabrication services, environmental qualification, onboard payload data processing and mission control software.
Where do you see your main customer base?
Our first lunar mission is carrying multiple scientific and commercial payloads. CNES (French Space Agency) is providing stereo HD cameras for our rover and we are also carrying Hakuto's rover Sorato on board our lander. In terms of scientific payloads, we are collaborating with research institutes like INFN and IIA. In line with our vision and future missions, we see such commercial payload providers and science research organizations as our primary customers.
SpaceWatch.Global thanks Rahul Narayan of TeamIndus for the interview.