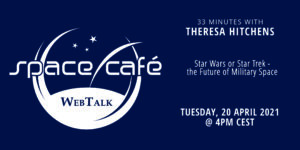 Join SpaceWatch.Global for an interesting and informative Space Café WebTalk featuring Theresa Hitchens, Space and Air Force reporter at Breaking Defense, Washington DC, USA.
This event will take place on 20 April 2021 at 4:00 pm CEST.
In our dialogue, we will discuss:
1. Developments in weapons tech,
– Types of weapons
– Status of development and by who
2. Expansion of nations seeking military space capabilities
3. Constraints on military actions in peace and war.
The audience will have an opportunity to ask questions in dialogue with Theresa Hitchens.
This Space Café WebTalk will be hosted by Torsten Kriening, publisher of SpaceWatch.Global.
SpaceWatch.Global is a Switzerland-based digital magazine and portal for those interested in space and the far-reaching impact of the space sector.
This Space Café WebTalk will be conducted in English. Reserve your place today.