As part of the partnership between SpaceWatch.Global and Luxembourg Space Agency, we have been granted permission to publish selected articles and texts. We are pleased to present "The Future Of Secure Satellite Communications", originally published on 12 December 2019 at the space-agency.public.lu website.
Interview with GovSat's CEO Patrick Biewer about a market where trust, reputation and the proof of quality and security are key.
How have GovSat's activities developed since the satellite launch in 2018?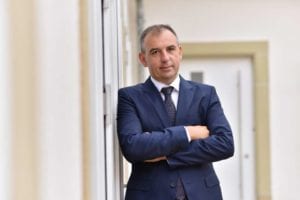 The demand in satellite communications for government and defence usage is constantly increasing. From a level of approximately 35Gbps today to above 150Gbps by 2025.
Within this segment, GovSat addresses the tier of users looking for more secure satellite communications and this requires more than just satellite capacity. With the GovSat-1 satellite, our secure operations center in Betzdorf and our highly qualified and security accredited personnel, we have the needed capabilities to address the specific requirements in secure satellite communications that are driven by the threat environment. In 2018, we entered as a new actor into a market where trust, reputation and the proof of quality and security are key.
Today, GovSat is providing secure solutions and communications within all its coverage areas, Europe, the Middle East and Africa; in land, air and sea applications and is well known for the quality and performance of the services it delivers.
When GovSat first started out, was there a lot of competition?
Yes, whilst the needs and demand are increasing, the development of secure and proprietary national satellites or satellite constellations is a priority of several nations, both in Europe and abroad.
In fact, providing all the European nations with access to secure satellite communications has become one of the priorities of the European Commission.
It is therefore important for us to differentiate ourselves. In the way we provide access to our system, the type of solutions we offer and the partnerships we engage in. Our organizational setup-up, as a public-private venture provides the benefits of being used as a Governmental capability – yet our capacity is also provided on a "non-preemptible" basis – following a commercial logic. It also allows certain nations, which don't have a proprietary satellite communications infrastructure in place, to have access to secured satellite communications.
What are the main demand drivers?
Well, you only have to look at the development of the Internet. The huge amount of information we now consume, the growth of multimedia content, and the improved quality of content. The search for more information is combined with the need of better and faster access to this information. The same is true for governmental applications. Take sensor technology, for example. High resolution sensors today produce 100 times the amount of data compared to 10 years ago. All of this drives the demand for bandwidth.
So, the security of the product being supplied has also increased
Yes, the increase of the amount of data is only one dimension. The faster this data is delivered and processed, the more valuable it is. This higher relevance means that the information must be delivered in a very secure way. This translates directly into the demand for secure satellite communications.
How secure are satellites today?
Private industry and governments are performing major efforts to continuously enhance the protection of both ground and space assets.
Despite these continued efforts to enhance the protection and security of satellites, a considerable number of satellites that are being used to support governmental communications today have been designed more than a decade ago, without considering the high security demand caused by the today's rapidly changing threat environment.
Awareness and innovations from government and industry have served to increase the security levels of satellites dramatically in recent years. More modern satellites have increased security capabilities, as well as an increased flexibility of configuration. This means they can accommodate in the case of changing situations, even after they are launched into space.
Last week there was a news report that the American government is interested in partnering with Elon Musk's Starlink project. How do you see this type of partnership with commercial players developing?
We don't have to look that far back to see a time when most of the innovation in secure satellite communications was driven, and often directly developed, by governments. Some of them involving highly innovative technologies.
Nowadays, this has flipped over. The private sector has taken the lead in innovative technologies. Industry has really taken the lead, whether it's Elon Musk, SES, or others.
What type of expertise will be required to develop such projects in the future? Are they the kind of skills which Luxembourg has a particularly good supply of?
In this environment, one always needs to take a wider view on the whole value chain. Obviously, this means you need to have expertise on the whole project. The satellite, the security that goes into the satellite, the management systems that go around the provisioning of secure satellite capabilities.
And when you deliver the solution, you need to consider some of the equipment that goes with it. You may also need to consider the security of that equipment, or the security layer that is above the entire communication chain. And all this needs to be integrated…
So, you need to involve a multitude of actors.  For example, one of the discussions we had recently was on the topic of identity management. Identity management being an element that is very relevant in today's banking sector, for instance. But it could also be very relevant in the provisioning of end-to-end secure satellite communications solutions within a defence environment.
This is just one example of how we could use the expertise that is present here in Luxembourg.
And is Luxembourg overall well positioned to provide this expertise and knowledge?
Since 2015, the entire space sector in Luxembourg has seen a huge amount of development. The expertise that is available in Luxembourg, particularly in SES, is very broad.
But very importantly, what makes Luxembourg an internationally recognized player is the dynamics and the determination to drive things forward as a nation, in the space sector.
Following the success of this year's GOVSATCOM event, can you tell us anything about the 2020 conference?
The GOVSATCOM conference Luxembourg has become a key event on the agenda of the International SATCOM actors from the satellite, governmental, institutional and defence fields.
The event mirrors the dynamics in our ecosystems. It brings together key actor of the entire value-chain: governments, experts, users and the research community.
The 2019 event gathered more than 400 participants and around 25 speakers.
2020 will be even more exciting. We will have a highly international focus with vendors showcasing their latest technologies and entrepreneurial startups joining for a dedicated session.
Is there any particular group of end users, or potential end users, you would like to target more?
Defence users drive most of the demand in secure satellite communications, when such are based on military frequencies. However, civilian or institutional applications, in the field of UN peacekeeping type activities, to border control, police, to any kind of first responders or emergency type solutions have equal sometimes even higher security needs. I am convinced that there are more opportunities than hurdles to develop the security and sensitive core of such applications on satellite systems that are by default conceived for a hostile threat environment.
It would be a great opportunity if the 2020 GOVSATCOM edition could further foster this dialogue and that we can jointly learn and explore on how to develop the solutions needed.
The original can be find here –https://space-agency.public.lu/en/news-media/news/2019/the_future_of_secure_satellite_communications.html–  Rights reserved – this publication is reproduced with permission from Luxembourg Space Agency.