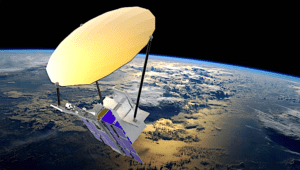 The NSLSat-1 satellite was successfully launched on Friday 5 July by EXOLAUNCH on the Soyuz 2.1b launch vehicle from the Vostochny Cosmodrome, Russia, into Low Earth Orbit (LEO). AAC Clyde Space has since made contact with spacecraft from their Glasgow based ground station, with spacecraft systems performing as planned. AAC Clyde Space is providing a full end-to-end mission service package for this mission, from mission design and satellite manufacture to data supply for Israel's NSLComm.
The AAC Clyde Space built 6U CubeSat was delivered to the launch provider, EXOLAUNCH, early last month and integrated with the Soyuz launch vehicle's adapter at the Russian spaceport. NSLSat-1 carries an advanced lightweight antenna and sub-reflector payload which has in-built smart technology set to enable worldwide supercharged Internet of over 1 Gigabit per second provided in total from the spacecraft.
The high-tech self-correcting solution can turn satellites such as CubeSats and SmallSats into powerful transponders relaying high-frequency signals from a low-Earth orbit. This versatility of operation enables the concentration of the data to specific locations on the ground, achieving what are likely to be record-breaking data rates. This data will be available to global satellite operators at a lower cost per bit.
"Our customers have ambitious missions for an ever-expanding range of applications," said Luis Gomes, CEO ÅAC Microtec. "It's our job to enable the realization of their pursuits, through the provision of highly progressive nanosatellite capabilities. In demonstrating this innovative space-based technology NSLComm is set to revolutionise New Space communications whilst showcasing the AAC Clyde Space's 6U CubeSat performance. We couldn't be prouder to partner with NSLComm and EXOLAUNCH for this mission."
"Our overall vision is to provide affordable satellite communications. Our new nanosat combines innovative, lightweight technology to ensure high throughput technologies that offer a limitless variety of broadband applications," said Raz Itzhaki Tamir, CEO NSLComm.
NSLComm develops satellite technology that enables high-speed nanosatellite communication systems for government, commercial, and private applications. The long-term vision for NSLComm is to provide a worldwide communications network via an orbiting constellation of about 80 spacecraft providing global coverage data and media applications.
This successful launch represents the companies fourth successful deployment this year alone, with further launches planned in the latter half of 2019. The developments by AAC Clyde Space in spacecraft technology and volume production are making the prospect of missions requiring constellations of small satellites and CubeSats a reality, supporting an increasing range of new and technically challenging space applications. Delivering Space as a Service, AAC Clyde Space combine best-in-class manufacturing capabilities, novel operational structures and cutting-edge technology to offer customers unrivalled access to space.