The Prague Security Studies Institute's (PSSI) 5th invitation-only Space Security Conference will be held in Prague on 9-11 June 2019.
According to Professor Scott Pace, formerly of the Elliott School of International Affairs, George Washington University, Washington, DC, "The PSSI Space Security Conference series is a unique and valuable opportunity to meet and hear from the world's top space security experts and policy makers. Truly an outstanding experience."
Dr. Kai-Uwe Schrogl, Chief Strategy Officer at the European Space Agency (ESA), observed, "With this impressive workshop series, PSSI has become the undisputed champion for the crucial trilateral security partnership in space."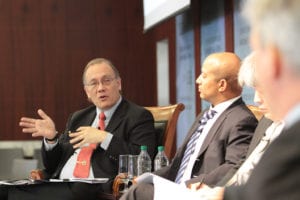 Among the keynote speakers this year are distinguished space security officials and experts from Europe, the United States, and Japan, including Andrea L. Thompson, Under Secretary for Arms Control and International Security from the U.S. Department of State; Lt. Gen. David D. Thompson, Vice Commander of the United States Air Force Space Command; Toshihiko Kasahara, Deputy Director of the Japanese Prime Minister's Office Cabinet Satellite Intelligence Center (CSICE); Kai-Uwe Schrogl, Chief Strategist at the European Space Agency (ESA); and Carine Clayes, Special Envoy for Space at the European External Action Service. A complete list of speakers is available here (http://spacesecurity.eu/#speakers)
Victoria Samson, Washington Director of the Secure World Foundation (SWF) observes that, "The PSSI Space Security Conference series allows for both high-level and in-depth discussions of major issues affecting the security and stability of the space domain.  SWF has been proud to have been involved in the series since 2016."
The conference is titled, "Evolution of the Counterspace Threat and Strengthening of International Space Partnerships." It will seek to identify policy challenges related to this higher risk environment, including space hybrid operations in the cyber and economic and financial (E&F) domains. More information can be found at the conference website: http://spacesecurity.eu
SpaceWatch.Global is media partner of the 5th PSSI Space Security Conference in Prague and will report about the event.