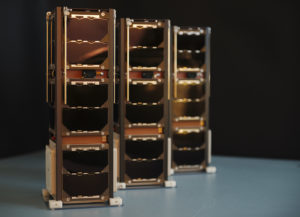 Nanosatellite operator, Sky and Space Global (SAS), has signed two Memorandums of Understanding (MoU) that will strengthen its growth strategy on the African continent.
The first has been signed with Extensia Bridge, a company that works with different tier-1 solution providers utilising innovative technologies for businesses, organisations and customers especially in remote areas across Africa. The reseller MoU signed with Sky and Space Global outlines Extensia Bridge's commitment to become a key reseller of SAS solutions across Africa and to satisfy a minimum number of orders for communications, Internet of Things (IoT) and machine-to-machine (M2M) services.
The second MoU has been signed with AfricaOnline, a licensed corporate Internet Service Provider (ISP) in Ghana that has been in operation since 1997 and is one of the largest very small aperture terminal (VSAT) operators in Africa with a total of 10 subsidiaries on the continent. AfricaOnline facilitates effective communication for its customers with the rest of the world. Products and solutions include broadband wireless, leased lines, multi-protocol label switching (MPLS), asymmetric digital subscriber lines (ADSL), VSAT, hosting, mail services, domains and disaster recovery solutions. The MoU agreement will see SAS collaborate with AfricaOnline Ghana to explore and test how SAS' proprietary connectivity network can be incorporated into its service offering to increase reliability, accessibility and affordability.