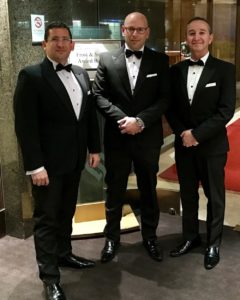 Sky and Space Global (SAS), the New Space narrowband satellite communications company listed on the Australian Stock Exchange, has been awarded a Company of the Year award by Frost & Sullivan as the best global nanosatellite company of the year.
Previous winners of Frost & Sullivan's Company of the Year awards include, eBay, Google, Vodafone, GE, Plantronics, Comcast, IBM, NEC, DuPont, Honeywell, Toshiba, Philips and NICE.
"Positive results from the CDR validate our technology, support our strategy and reaffirm our goal of providing communication technology to remote geographical locations," said Sky and Space Global CEO Meir Moalem.
This is the second time SAS has received an award from Frost & Sullivan. In 2016, SAS won the consulting firm's Global Technology Innovation Award.
"We have been working extremely hard to build a nanosatellite company that challenges technology and satellite operators to take the industry to the next level in development," Moalem said. "Receiving this award validates our technology, company, expert knowledge, and promise of growth."
SAS successfully launched its first three nanosatellites, the 3 Diamonds, into space in June 2017,  providing a low-cost communications solution for some of the most remote places on earth. It is preparing for the launch of a constellation of 200 more nanosatellites by 2020.
Recently, the company announced two deals in China, including plans to work with a rocket company which exclusively operates China's space program, and to incorporate its internet of things and communication services into the network of Commsat, the Chinese satellite communications provider.
"Sky and Space is making strong progress and is looking forward to the launch of the first batch of 'Pearls' next year, and we expect the next 12 months to be not only transformational for us, but for the industry," Moalem concluded.