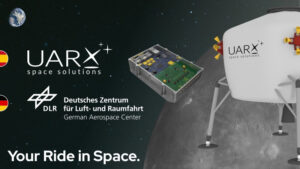 Paris, 18 March 2021. – The Spanish space transportation company UARX Space will work with the German Aerospace Center DLR on Low Earth Orbit (LEO) and Moon missions, DLR said.
The Cooperation Agreement involves joint developments for UARX Space spacecraft for LEO and Moon missions, including the development of spacecraft and landers, the aerospace center said. A basic memorandum between the two parties was signed in December 2020.
DLR conducts research and development in aeronautics, space, energy, transport, security, and digitalisation, using the expertise of 54 research institutes and 10,000 employees. The German Space Agency at DLR plans and implements the national space program, on behalf of the German federal government.
UARX Space is a Spanish company headquartered in Nigrán, Spain, and with an office in Mar del Plata, Argentina.