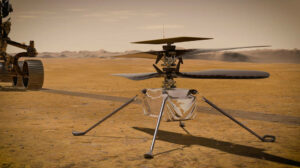 Paris, 18 March 2021. – NASA wants to begin the test flights for its Ingenuity Mars helicopter in the first week of April, the agency said in an invitation to a media briefing.
Ingenuity's test flights are expected to begin no earlier than the first week of April, NASA said. "The exact timing of the first flight will remain fluid as engineers work out details on the timeline for deployments and vehicle positioning of Perseverance and Ingenuity." NASA posts hundreds of photos on Perseverance's raw images website.
The teams operating Ingenuity and NASA's Mars 2020 Perseverance rover have chosen the flight zone where the helicopter will attempt the first powered, controlled flights on another planet, NASA said.
Perseverance – with Ingenuity attached to its belly – landed on Mars on 18 February. Ingenuity has a test flight duration of up to 31 days, NASA says. The Perseverance rover will deploy the helicopter and provide environmental monitoring and imaging support. It also hosts Ingenuity's base station, enabling communication with mission controllers on Earth.