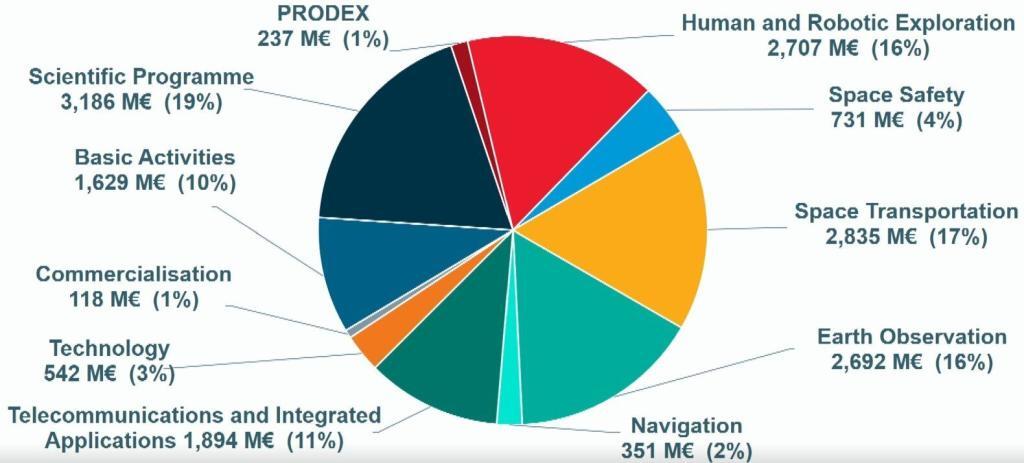 Milan-Paris, 23 of November 2022 – On the conclusion of the second day of the European Space Agency (ESA)'s Ministerial Council, held in Paris on the 22 and 23 of November 2022, Josef Aschbacher, ESA's Director General, together with French Minister Bruno Le Maire, announced a new budget for ESA amounting to 16.9 billion euro, a 17% increase from 2019.
Aschbacher initially asked for 18.5 billion to confront the Agency's challenges upon detaching from Russia's dependency and developing a sovereign launching system. Among the contributing members, Germany confirms to be the first in line with 3.5 billion euros, followed by France with 3.2 billion and Italy with 3 billion euros, respectively 20.8%, 18.9%, and 18.2% of the total budget.
Interestingly, all countries except Hungary and Romania increased their contribution. Italy, the third highest contributing member after Germany and France, moved from 15.7% in 2019 to 18.2% in 2022 (35% increase). New member states like Latvia, Lithuania, and Slovakia contributed to cover the missing budget with new funds of 3, 5, and 12 million euros, respectively.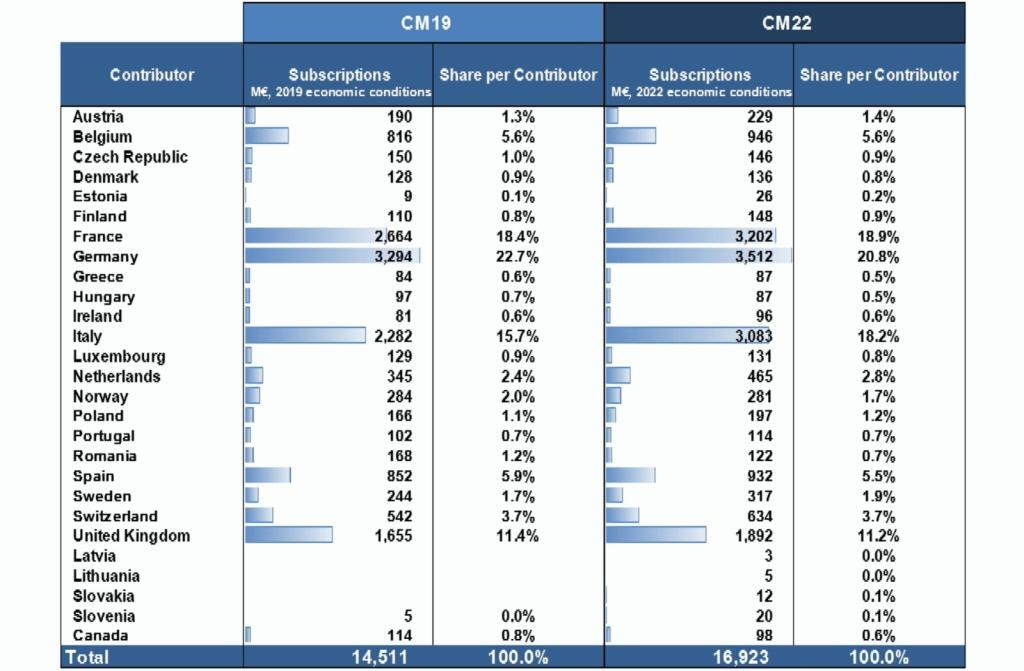 In terms of activities, the biggest boosts can be observed within Human and Robotic exploration (+37% increase compared to CM19), which confirms the intention of ESA to keep contributing to the ISS and keep pushing its presence on the Moon, the Scientific Program (+13%), ESA's mandatory solar system program, which will see the push of programs such as Lisa and Athena, and Navigation (nearly 5 times increase), which includes Galileo.
The latest highlight is the strategic importance of ESA and the EU in developing sovereign navigation systems and the key role of satellite navigation in creating a bridge between agencies and the private sector. On the other hand, Technology (-6.8%) has seen a drop, but SOLARIS, a feasibility study on the potential to build solar panels in space, has received confirmation. Furthermore, a new entry, Commercialization, stores 118 million for ScaleUp, a cross-directorate proposal to help deliver new commercialization opportunities.