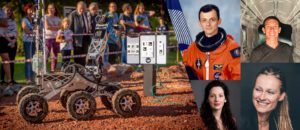 Edinburgh, 17 August 2022. – Spanish astronaut and aeronautics engineer, Pedro Duque, will attend the 8th edition of the international Martian robot competition, the European Rover Challenge (ERC) co-organized by the European Space Foundation, Kielce University of Technology and Swietokrzyskie Voivodeship. ERC 2022 finals will be held at Kielce University of Technology in Poland, between 9–11 September.
ERC 2022 features special guests and an extensive educational offer tailored to various age groups. In addition to Duque, participants will have the opportunity to meet Dr. Gernot Groemer, Director of the Austrian Space Forum. They will also be able to see Gianfranco Visentin, head of the Automation and Robotics Section of the European Space Agency in person. Furthermore, Professor Grzegorz Wrochna, President of the Polish Space Agency will also attend the event.
Analog astronaut Dr. Reut Sorek Abramovich and Dr. Niamh Shaw, a popularizer of space, STEM and STEAM sciences will be among the female experts present at ERC 2022.
The Inspiration Zone, an area of almost 400 square meters, offers visitors of all ages experiments with liquid nitrogen and tastings of freeze-dried food. ERC The event will also feature the world's largest artificial Mars Yard. 
A total of 30 teams from 10 countries qualified for this year's finals. 19 teams will participate in person with their own rover, while the rest will take part remotely, navigating the rover using a dedicated online interface.