By Dr. Su-Yin Tan

It has been long recognized that space technologies not only benefit space exploration but offer direct and tangible benefits to people on Earth.  Satellites have the capability of observing Earth's surface from space with constant revisit times.  We have grown reliant on satellites for weather forecasting, military reconnaissance, transportation, agriculture, and many more services that can be considered as either public goods or else sold for profit.  Although the space sector has historically focused on the upstream sector, including engineering aspects of space transportation, ground stations, and exploration, the focus has shifted towards the downstream sector that relies on data and services primarily from satellite applications.
The International Space University's Space Studies Program (SSP) emphasizes the importance of interdisciplinary, international, and intercultural education, which we believe is necessary for working and succeeding in the space sector.  One of the few opportunities within the SSP program for participants to gain more in-depth and hands-on learning on a disciplinary subject is during the second phase of the curriculum, where participants select one of seven departments.  The Space Applications Department focuses on downstream applications, translating data and research gained with upstream technologies into meaningful information that can be used for decision-making and solving Earth and societal challenges.  There are relevant links with other departments, such as with upstream technologies that the Space Engineering Department focuses on, commercialization of services discussed by the Management and Business Department, and the dual-use purpose of such systems, which is a Policy, Economics, and Law Department issue.  These links are emphasized with joint departmental activities.
The Space Applications Department is a stand-alone discipline within the SSP program, because of its focus on downstream uses of technologies such as satellite telecommunication services, Earth observation, navigation, and data analytics.  Due to the diversity of application areas, this is the area of space that brings the highest economic returns, is growing at the fastest rate, and inspires most of the start-up companies emerging from ISU.  From meteorology to geology to epidemiology, from forestry to agriculture, from telecommunications to cybersecurity, from climate change to disaster management – the diverse applications of satellite data are providing important career opportunities for ISU graduates and alumni.
From a pedagogical perspective, another unique advantage of the departmental phase of the SSP program is the ability to focus on hands-on and experiential learning activities within a small group environment (which are not possible during the Core Lecture and Team Project phases of the program).  It is not surprising that SSP participants often cite departments as being their favourite part of the SSP learning experience.  Due to its focus on downstream Earth applications, the Space Applications Department incorporates a variety of hands-on activities in its curriculum, including workshops, technical demonstrations, and professional visits that explore enabling space technologies and their real-life uses.  Another departmental learning outcome involves developing a proficiency in technological hardware and software, such as remote sensing image processing, telecommunications link budgets, geographic information analysis (GIS) toolkits, and the use of satellite navigation instruments.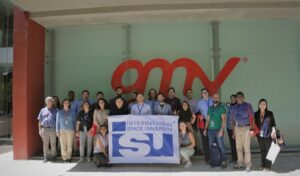 Hosted in Oeiras, Portugal this year, the Space Applications Department made use of local expertise and sites, maintaining a geographic focus for most activities.  We visited facilities in both academia and private sectors.  For example, we held a workshop at the IST Satellite Communications Lab, which is developing SAT-1, the first-ever satellite built by a university student team in Portugal.  Departmental participants were able to interact with IST students and discuss how the small satellite structure was designed and built, as well as potential applications such as the tracking and characterization of aircraft transponder signals (ADS-B).
A particularly relevant activity was visiting the headquarters of GMV in Lisbon, a leading ground systems supplier for commercial telecommunications satellite operators.  Participants engaged in hands-on brainstorming activities with GMV experts about how space applications can be used in different sectors related to air, land, and oceans, proving to be a constructive exercise for Team Projects.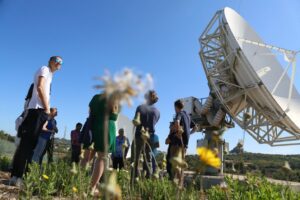 A joint professional visit with the Management and Business Department to the Alfouvar Station for Satellite Operations located north of Lisbon and managed by Altice Portugal provided insights into satellite communications equipment development, technologies, and services.  Participants viewed live ground station operations and infrastructure and engaged with experts regarding single and multiuse broadcast applications.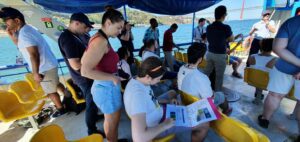 An annual tradition for the Space Applications Department is the ground truth field trip, which investigates how in situ observations are connected with different types of satellite remote sensing imagery.  This year, the activity began with a morning workshop hosted on-board a Lisboat ferry on the Tagus River with scientists from the University of Lisbon and Plymouth Marine Lab.  Demonstrations showed how field measurements are collected with radiometers mounted on the ferry platform and how this data can be used to validate satellite radiometry and spectral signatures of land and water features.  In the afternoon, we moved further inland with a hike in the Sintra-Cascais Natural Park, collecting ground truth observations of terrain and landcover features, exploring the surrounding mountain range and UNESCO cultural heritage sites of Quinta da Regaleira and the Moorish Castle (Castelo dos Mouros), and finally ending the day with a departmental dinner in the historic village of Sintra.
Another highlight activity was the SpaceApps Geocaching Competition, which is a high-tech treasure hunting game using GPS-enabled devices.  This year, participants were divided into four groups and tasked with designing their own geocaching competition course in different locations using a geocaching app.  The exercise took place in the historic villages of Évora and Óbidos, purposefully selected for participants' unfamiliarity with the locations, relative compactness, and rich landscape for developing diverse geocache locations.  The activity is a prime example of how ISU encourages learning to occur in a hands-on and fun setting, practicing a 'learning by doing' ethos.  Participants gained experience with Global Navigation Satellite System (GNSS) handheld receivers, learning about positional accuracy and civilian/recreation applications for location-based services.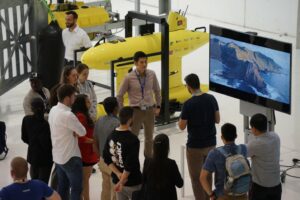 A 'grand finale' activity was a joint departmental activity with Space Engineering, visiting the city of Porto where a professional visit was hosted by the Centre of Engineering and Product Development (CEiiA) and the Rocket Factory Augsburg (RFA).  As one of the 10 largest R&D investors in Portugal, CEiiA focuses on fostering sustainability and quality of life, while addressing complex challenges and working in high-tech sectors, such as automotive and urban mobility, aeronautics, and ocean and space.  RFA is housed in the same facility and develops launch systems and services, such as micro launchers for satellites with a mission to significantly reduce launch costs for satellites.  Experts engaged with departmental participants to discuss challenges of entering the launch market and potential applications and benefits of having quicker and more cost-effective large volume serial production of rockets for supporting commercial satellite networks.  As the only SSP departments to visit Porto, we ended the intense day of professional visits with a joint departmental social with a wine tour and tasting at Cálem Cellars in Vila Nova de Gaia with picturesque views of downtown Porto.
Similar to other departments, participants in Space Applications deliver an individual project, including a written report/poster and an oral presentation.  The project is entitled the "ISU SpaceApps Challenge", which involves participants identifying a challenge facing the world and humanity today and developing possible space-based solutions.  This year, project topics were diverse, ranging from the use of satellite data for monitoring and maintaining UNESCO World Heritage Sites, management of wildfires, relevance to counterspace, equatorial satellite proposal, to water quality monitoring.  Participants were able to deliver expected project requirements within significant time constraints, alongside Team Project and Core Lecture assessment deliverables.
From my personal experience with the SSP over the last 20 years, every Space Applications Department is unique and special.  Hosted in Oeiras, Portugal this year, our Department was fortunate to have access to an emerging and rapidly growing satellite applications sector, which we optimized on by inviting local experts and visiting companies in the Lisbon area.  We were able to address all aspects of space applications, including navigation, telecommunications, remote sensing, and GIS data management with hands-on and small group activities.
Most of all, the Department was memorable because of the people involved, including various staff, alumni, and visiting lecturers who contributed to the success of each activity.  Our departmental participants were fully engaged and committed to learning new concepts and developments in the space applications sector and how to apply this newfound knowledge to their real-life careers.  The most memorable experiences were being able to learn together, laugh together, appreciate different viewpoints and perspectives, and appreciate the practical and valuable benefits that space applications provide to all humankind.  Such diverse experiences are unique to the ISU educational environment and emphasize the value of international, intercultural, and interdisciplinary learning.  I firmly believe that SSP participants will be the space leaders of tomorrow and will continue to inspire and convince others of the benefits of space and how such capabilities will grow and evolve in the future.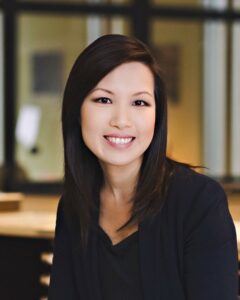 Dr. Su-Yin Tan is a Senior Lecturer in the Geomatics Program, Teaching Fellow of the Faculty of Environment, and Director of the Applied Geomatics Research Laboratory at the University of Waterloo, Canada.  She is a Global Faculty Member of the International Space University (ISU), where she has served in numerous Chair roles in the Space Studies Program (SSP) and taught at the Masters of Space Studies (MSS) program and Executive Space Courses. She has been active in the ISU community for almost 20 years, since SSP03 (Strasbourg).  Dr. Tan's specialisation is in geographic information systems, remote sensing, and navigation. She received her PhD degree from the University of Cambridge (UK), two Masters degrees from Oxford University (UK) and Boston University (USA), and BSc (Env) from the University of Guelph (Canada).