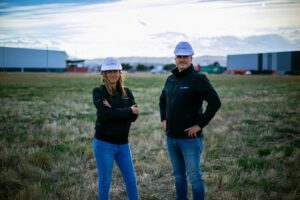 Edinburgh, 8 December 2021. – Fleet Space Technologies announced they will establish a satellite Hyper Factory in the new Australian Space Park in Adelaide, to develop a constellation of 3D printed small satellites. The South Australian Government will invest AUS $20M into the project.
The Hyper Factory, established in the Space Park, will be Australia's first dedicated space manufacturing hub. It will co-locate four space manufacturing companies in a purpose built facility. The four companies are Fleet Space Technologies, Q-CTRL, ATSpace and Alauda Aeronautics. Their focus will be on collaboration and the production of smallsats and their payloads, rockets, and electric vertical take-off and landing vehicles. 
The project will enable Fleet Space to create the world's first entirely 3D printed smallsat device, the Alpha small satellite. Alpha will also integrate beam-forming antennas and electronics.
The State Government identified Adelaide Airport as a potential location for the Australian Space Park. The Park will help triple the space sector's contribution to GDP to over AUS $12B per annum. This is in line with the country's space strategy which aims to create 20,000 jobs by 2030.