by Luisa Low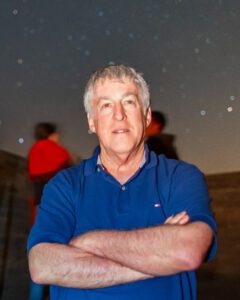 During this week's Space Café, SpaceWatch.Global Editor-in-Chief Markus Payer met with Mike Simmons, a medical research scientist at the University of California turned avid astronomer whose passion for watching the universe has spanned over four decades.
Motivated by a love of sharing the sky with others, Mike's astronomy passion kicked off at the Los Angeles Astronomical Society and at Griffith Observatory in the ever-cosmic 1970s.
In 2006, he founded Astronomers Without Borders to unite astronomy and space enthusiasts around the globe. Now based in Canada, in 2020 he founded both One Sky Expedition, an astronomical tour provider for night sky enthusiasts, and AstroGear, an astronomy equipment website.
This week, he and Markus discuss his long career as a true space watcher and what we can all learn from looking up and gazing at the stars.
More than just a hobby
To look up and wonder is to be human – and sky gazing has been with us the dawn of humanity.
Central to religions, mythology, art, philosophy, science and navigation, wondering about our place in the universe has always been part of our story and at the very heart of questions around our existence.
It's for this reason Mike says space observation still enthrals us today.
"Looking upwards gives context to our existence. It shows us where we are in space. It's something that shows us that we're part of something much larger."
Mike also believes for many people, looking at the sky through a telescope can sometimes bring the realisation that we aren't separate from space, we are part of it.
"They look at Saturn with the rings around it and say, 'My God, that so far away, it's something that doesn't have anything to do with Earth.' And then we say, 'look, it's right there, you can see it – that bright object – that's what it is'."

"They never realise they're walking around without looking at anything around them – they're just seeing what's right in front of them."

"There is a shift in people when they look through a telescope for the first time there, there is a change. People look through a telescope and they are transported to another place."

"It can be a life changing experience."
Does exploration render observation obsolete?
Before the existence of space exploration, observation was humankind's only means of interacting with the universe. But is observation losing relevance now that we can ascend beyond Earth's atmosphere?
Mike Simmons doesn't see the two as separate. He believes that venturing into space is natural and is simply part of species' adventurous nature.
Venturing into space explains humanity and our world in an entirely new way. While we once looked into space to try to learn of our context, being in space and looking back down at Earth gives us an entirely new perspective. He calls this the 'overview effect'.
"The overview effect is something that happens to a lot of the people who go into space. They look back at the Earth and they see what you have behind you.

"But it's not a painting, it's not two dimensional, it is something three dimensional. Something where you see all the systems working together."

"So we don't want to stay on the ground and just see what's around us. We need to get up into space and take advantage of it, to be able to do the things that we need to address climate change and weather problems, all the other things that happen.

"Imagine you live your whole life in your house, in a small yard that's around and then one day you get up on top of the roof and you look out and you see there's a whole world out there.

"There are other people, there are other houses, there all kinds of other things. And you realise you're living in a place with people around you, that effect everything that you do, and who you affect when you do these things. This is the perspective that we get looking from space back to Earth."
To listen to Mike Simmons insights into astronomy and space watching, you can watch the full program here: 
Space Café is broadcast live Tuesday at 4 pm CEST. To subscribe and get the latest on the space industry from world-leading experts visit – click here.
Luisa Low is a freelance journalist and media adviser from Sydney, Australia. She currently manages Media and Public Relations for the University of Sydney's Faculty of Engineering.