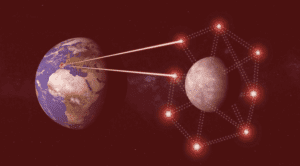 Edinburgh, 29 October 2021. – Plus Ultra Space Outpost (Plus Ultra) and Rocket Factory Augsburg (RFA) want to launch a demonstrator mission to the Moon, RFA announced.
RFA will launch Plus Ultra's first satellite in 2023 on an RFA ONE launch vehicle, it said. The vehicle uses industrial automation and staged-combustion propulsion.
Plus Ultra's spacecraft will deploy into geosynchronous transfer orbit from where it will reach lunar orbit with the help of its electric propulsion system. This satellite will be the first part of the company's cislunar constellation "Harmony". It will also be the first private orbiter around the Moon.
Plus Ultra's Harmony will provide communication and navigation services, high speed broadband connectivity and navigation on and around the Moon, the company claims. The network will enable continuous remote operations, pinpoint landings, surface navigation, as well as polar and far side access.
Constellation Harmony is planned to begin operations in 2024.