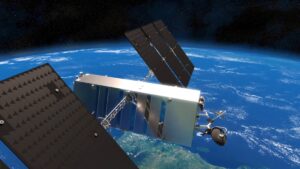 Paris, 15 June 2021. – Thales Alenia Space will provide the optical intersatellite links for Telesat's Lightspeed constellation, the company said.
As prime contractor for the construction of Telesat's new LEO constellation, Thales Alenia Space will also provide its Swiss Optel-C product to connect the 298 satellites, Thales Alenia Space said.
Optical intersatellite links will allow Lightspeed to provide "global, mesh coverage around the world, including above the oceans and poles, with a high level of security for end-to-end services", the company said.
 "Their use will optimize the ground segment with a lower number of gateway sites, more freedom on gateway locations, and the ability to deploy gateways incrementally as system loading increases."
Lightspeed wants to deliver "multiple terabits per second across the globe for secure, low-latency, high-performing broadband professional services".