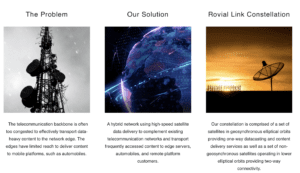 Paris, 15 June 2021. – The satcom startup Rovial wants to form a consortium with Mynaric, Reflex Aerospace and Isar Aerospace to develop, build and operate "an independent European satellite-based communications network", the company based in Paris announced.
Rovial unveiled its plan to "develop, build and operate an European-centric, secure, end-to-end, high-capacity, and scalable satellite constellation" on the occasion of the industry meeting "Secure Connectivity Initiative: Opportunities for the European New Space Ecosystem", organized by EU Commissioner Thierry Breton, the company said.
Rovial leads a consortium to realize the satellite network "which will establish an independent European communications backbone in space and contribute to Europe's economic growth, safety, and security", it said.
The constellation wants to serve a range of applications, including Internet-of-Things (IOT), autonomous vehicles, video/rich-data communications, and defense and humanitarian missions.
Rovial intends to broaden the consortium to include a second tier of European suppliers of subsystems and components.
The consortium's first major milestone is the launch of demonstration satellites in 2022, Rovial said.