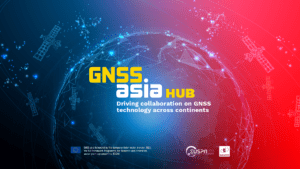 GNSS.asia, a support platform for international cooperation in GNSS as well as an outreach arm for European GNSS, launches its Hub for industry collaboration on 16 June 2021. The Hub makes it easy to network with senior professionals and decision-makers across all industry, institutions, and academia, anytime and anywhere. Register to the Hub and start connecting today.
The GNSS.asia Hub is a new element of GNSS.asia's support services to the global satellite navigation community
With the Hub, GNSS.asia aspires to elevate its support services for the global GNSS community and European SMEs alike. The Hub not only serves as the new event platform, where all future GNSS.asia events will take place including the EU-Japan GNSS Week in September 2021 as well as the Galileo Hackathon Series in South-East Asia in October 2021, but it also enables you to network anytime and anywhere – quick, easy and free of charge. Networking for business development has never been this simple.
GNSS.asia serves as a community of industrial partners and prepares the ground for GNSS stakeholders' work with Asia-Pacific. It brings together European and Asian-Pacific industry, institutions and key associations. For the first time, all will come together in one place at the GNSS.asia Hub. The global GNSS community might be a small one, but it's one of the best!
The Hub at a glance:
• Connect and collaborate today free of charge!
• Promote your business offers and requests on the marketplace
• Book B2B, B2C & B2G meetings anytime with your next business partner
• Join inspiring keynotes, plenary session, workshops and investor roundtables on satellite navigation, Multi-GNSS, GNSS market & technology trends and much more
Collaboration on multi-GNSS technology across continents
The Asia-Pacific region contains half of the global population, and it features some of the world's fastest-growing economics, an increasing userbase for space solutions, and it is home to some of the key trendsetters in terms of space technologies. This region is full of high-tech players who supply GNSS-related hardware to the world, whose innovations are showcased in the GNSS.asia Market and Technology Trends. Industrial collaboration across continents is indispensable to make multi-GNSS a reality and to promote the global GNSS industry.
The GNSS.asia Hub will launch on 16 June supported by the European Commission and the European Union Agency for the Space Programme
The first GNSS.asia Hub Event will be its launch on 16 June 2021 at 10:30 am CEST. This event will feature talks by Pavlina Nikolova, the International Relations Officer at the European Commission (DG DEFIS), followed by the European Union Agency for the Space Programme (EUSPA) who will be speaking about GNSS international cooperation between Europe and Asia-Pacific.
In addition, you will get the opportunity to meet the GNSS.asia team, learn about what the Hub can do for you, how to use it, and most importantly, ask all your questions!
Register to the GNSS.asia Hub Launch Event now!
For additional information, visit the social media channels: