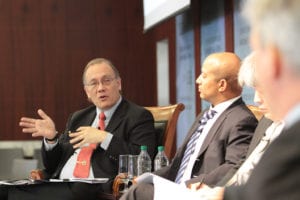 Paris, 5 January 2021. – After three-and-a-half years of service as Executive Secretary of the White House National Space Council, Scott Pace left and returned to George Washington University, spacepolicyonline.com reported.
Pace was Director of the Space Policy Institute at GWU's Elliott School of International Affairs before being tapped by the Trump Administration to lead the National Space Council.
After a 25-year pause, President Trump reestablished the Space Council in 2017 and integrated it into the Executive Office of the President, chaired by Vice President Mike Pence.
In a statement quoted by spacepolicyonline.com, Pace, who is also a Deputy Assistant to the President, called his time with the Trump Administration an "honor of a lifetime." "(W) e advanced the ball" in many areas of space policy, Pace said.
Spacepolicyonline.com summarizes a series of crucial Space Policy Directives and Executive Orders that were driven under Pace's leadership, amongst them the Space Policy Directive-1, restoring human lunar missions, the second directive which made Department of Commerce responsible for all commercial space regulations, the fourth directive, establishing the U.S. Space Force, and number six, which laid out the National Strategy for Space Nuclear Power and Propulsion (SNPP).