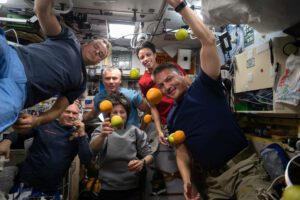 Edinburgh, 27 July 2022. – Yuri Borisov, head of the Russian federal space agency, Roscosmos, said the country will withdraw from the International Space Station (ISS) program after 2024 to focus on building its own orbiting station. The announcement was made less than two weeks after Roscosmos and NASA signed a seat exchange agreement on spacecraft traveling to and from the station.
Roscosmos has been threatening to end its cooperation with regards to the ISS due to sanctions against Russia after its invasion of Ukraine. NASA Administrator Bill Nelson stated that the agency was committed to the safe operation of the ISS through 2030. He also said that NASA was building future capabilities to assure its presence in low Earth orbit. Retired NASA astronaut Scott Kelly, believes the Russians will stay in the program as long as they can to give Putin credibility.
The American and Russian segments of the ISS are built interdependent, therefore Russia leaving the program could put an end to the station's operational life. ISS partner agencies (ESA, JAXA and the Canadian Space Agency), are currently only planning to operate the lab until 2024. NASA expects that commercial space stations will take over after the decommissioning of the ISS.
There are ongoing discussions to extend the life of the station past 2024, up to 2030. At this point, the annual cost of operating the laboratory is between US $3 billion and US $4 billion.
"The Russian announcements is not a surprise and reiterating their current commitment through 2024 is helpful for planning… Among the considerations will be maintaining the Station's altitude in the future, replacing ground communications support from Moscow, and disposition of Russian assets currently attached to the Station," Dr Scott Pace, director of the George Washington University's Space Policy Institute said.