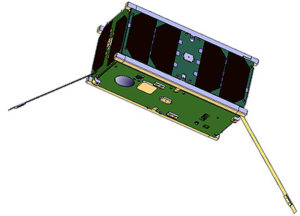 Belarus State University's BSUSat-1 was successfully launched by a Chinese Long March 2C satellite launch vehicle on Monday, 29 October 2018, from the Jiuquan Satellite Launch Centre in Northwest China.
BSUSat-1 was launched as one of five piggyback payloads, with the China-France Oceanography Satellite (CFOSAT) being the primary payload.
BSUSat-1 is a demonstration satellite to test satellite propulsion, communications systems, and data collection, among others. It has a design life of five years and will operate in Low Earth Orbit (LEO) at an altitude of 500km. BSUSat-1 will transmit radio signals that students can access by using a USB flash drive.
BSUSat-1 is Belarus State University's (BSU) first satellite, according to SpaceTech Asia, and Belarus' first student satellite, though it is not the university's first involvement in space technology. In 2014, BSU sent a spaceborne video spectrum system to the International Space Station (ISS), and in 2010, a photo spectrum system.
Belarus has been increasingly active in space in recent years. In 2012, the National Academy of Sciences of the Republic of Belarus launched the remote sensing satellite BKA-1. In 2017, the Academy announced plans to launch BKA-2, and said that it was considering inviting Singapore, Russia, and Egypt to help with funding.
BSUSat 1 is the second Belarusian satellite to be launched by China. In January 2016, China launched Belarus' first communications satellite, Belintersat-1.
Belintersat-1 was manufactured by China Aerospace Science and Technology Corporation (CASC) and Thales Alenia Space of France.