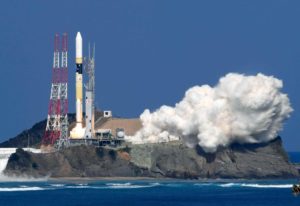 The UAE's KhalifaSat high-resolution Earth observation satellite was successfully launched into orbit on board a Mitsubishi Heavy Industries (MHI) H-IIA satellite launch vehicle from Japan's Tanegashima Space Centre at 13:08hrs Japanese time (08:08hrs UAE time) on Monday, 29 October 2018.
Approximately two hours after launch KhalifaSat successfully separated from the launch vehicle and entered its intended orbit.
KhalifaSat's successful launch marks a significant milestone for the UAE, and the Mohammed Bin Rashid Space Centre (MBRSC) in particular, since it is the first wholly-made Emirati satellite to be launched into space.
KhalifaSat has been in development since 2013 and joins the UAE's two imaging satellites already in orbit, DubaiSat-1 and DubaiSat-2. KhalifaSat was designed, tested, built, and managed by Emirati engineers at the Mohammed bin Rashid Space Centre's (MBRSC) Advanced Technology Laboratories in Dubai, making it the first satellite system to be developed at the facility.
Weighing just 330 kg., KhalifaSat contains an advanced positioning system allowing a large number of 3D images to be captured at once, with excellent accuracy and speed. The images can then be used to detect the effects of climate change, ensure responsible urban planning and management, and aid relief efforts for natural disasters. KhalifaSat has a planned mission life of five years.
KhalifaSat will operate in a 600 kilometre altitude Sun-synchronous orbit, and its camera is reported to have a panchromatic resolution of 70 centimetres,
After the launch MBRSC's Amer Al Sayegh, KhalifaSat's programme manager, praised the Japanese and Emirati teams for the mission's success.
"It's not only the technical work that we are doing with our Japanese colleagues, it's the bonding of two teams and two cultures working together for the same vision," he said.
"The UAE now has a highly qualified team equipped with knowledge, expertise and strong teamwork for the new missions for the UAE."
After KhalifaSat separated from its booster and entered its intended orbit H.H. Sheikh Mohammed Bin Rashid Al Maktoum, the UAE's Vice President and Prime Minister and Ruler of Dubai, Tweeted, "A new historic day for the UAE. The launch of 'KhalifaSat' is the first Arabic satellite 100% Emirati-made. A milestone for UAE as Emiratis proved their ability, maturity, knowledge and ambition, joining the global race with our heads up."
H.H. Sheikh Mohammed Bin Zayed Al Nahyan, Crown Prince of Abu Dhabi, Tweeted, "An unprecedented Emirati achievement launching the first satellite, KhalifaSat, with Emirati hands. Our dream to embrace space has become a reality for our young people, who are launching a new stage of scientific challenge. We are proud our youth, Zayed's children and their achievements that demonstrate that Arabs are able to compete and lead."
According to the MBRSC website KhalifaSat will provide high-quality detailed imagery enabling the UAE to provide competitive services all over the world in the satellite imagery sector. The images provided will be used in urban planning and management, which ensures effective optimisation of land use and realistic infrastructure proposals. Images will be used in developing detailed maps of targeted areas and monitoring major engineering and construction projects. In the field of environmental protection, KhalifaSat will monitor environmental changes locally and internationally to support global efforts exerted to preserve the environment. Therefore, KhalifaSat is expected to provide detailed imagery of the ice caps in the North and South Poles, helping to detect the effects of global warming. It will also provide detailed images of the areas that require close monitoring such as the ice caps in the North and South Poles.
Khalifasat will become operational in the coming weeks once it has completed on-orbit checks and its camera has been tested on various locations around the world.