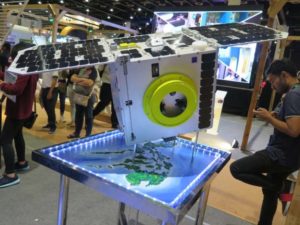 The Philippines' Diwata 2 remote sensing satellite was successfully launched into orbit on board a Mitsubishi Heavy Industries (MHI) H-IIA satellite launch vehicle from Japan's Tanegashima Space Centre on Monday, 29 October 2018.
Fortunato dela Peña, Secretary of the Filipino Department of Science and Technology (DOST), personally witnessed the launch at Tanegashima that included Japanese and UAE satellites on board the H-IIA launcher. The launch was simultaneously live-streamed to an audience at the University of the Philippines.
Secretary dela Peña said government agencies will benefit from the satellite imagery and information that Diwata 2 will take from orbit, in particular for agriculture and natural resource management, environmental and climate change monitoring, and maritime domain awareness surveillance to monitor shipping traffic in the territorial waters of the Philippines, to include illegal fishing and the protection of Filipino territorial integrity against Chinese claims of sovereignty in the South China Sea.
Diwata-2 is equipped with the latest technology that enables it to take images of the Philippines and the rest of the world, and also includes an amateur radio payload to be used for emergency or disaster response. The microsatellite will also help in disaster response and management for parts of the Philippines impacted by natural disasters and other emergencies.
"Diwata 2 will have the capability of being used also for some kind of radio communication particularly when an emergency arises," dela Peña said.
The DOST has already built a ground station in Luzon, and will build similar facilities in Visayas and Mindanao.
Diwata-2 was built by Filipino engineers and scientists with the help of experts from universities in Japan.
"I believe that there is more Filipino time devoted to this second one and there has been improvements," dela Peña said, referring to the proportion of Diwata-2 built by Filipino engineers compared the Diwata-1 microsatellite.
The government of the Philippines is also in the process of laying the foundations for the establishment of a national space agency. The DOST also hopes the government will approve its proposed 2019 budget of U.S.$4.5 million to be used exclusively for space technology development.
The Philippines launched its first microsatellite, Diwata-1, in March 2016.