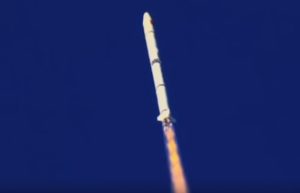 A Chinese Long March 2C satellite launch vehicle successfully took off from the Jiuquan Satellite Launch Centre in Northwest China on Monday, 29 October 2018, lofting the China-France Oceanography Satellite (CFOSAT) as its primary payload as well as four Cubesats for Chinese New Space satellite manufacturer Spacety.
One other satellite belonging to Belarus also piggybacked on the launch, which took place at 00:43hrs UTC.
The four Spacety satellites were built for a number of customers and will operate in a Sun-synchronous orbit at 500 kilometres altitude.
The four Spacety-built Cubesats include Xiaoxiang-1 (02), a technology verification test for LaserFleet, a Chinese New Space company looking to establish a low-Earth orbit constellation of 288 laser communications satellites providing broadband inflight connectivity. LaserFleet has signed a cooperation deal with the Civil Aviation Management Institute of China (CAMIC).
Zhaojin-1, also known as Tongchuan-1 after a city in Shanxi Province that is sponsoring it, is also the first of the Gamma Ray Integrated Detectors (GRID), an astrophysics constellation of 24 CubeSats being put together by Tsinghua University. Zhaojin-1, built on a Spacety 6U CubeSat, will also be involved in space-to-ground tests with the new Tongchuan commercial space ground station.
Tianfuguoxing-1 (Xinghe) is a remote sensing and Artificial Intelligence (AI) demonstration CubeSat, developed in cooperation with Guoxing Yuhang Co. Ltd. (also known as ADA Space), a New Space company located in Chengdu. ADA Space also had two payloads on the iSpace suborbital flight that took place in September 2018.
Lastly, Changshagaoxin, named for the city of Changsha's high-tech zone and marking its 30th anniversary, is an amateur radio CubeSat that is also a technology verification testbed for Spacety's next-generation 20U satellite platform.
Spacety is headquartered in Changsha, Hunan Province, in China and provides satellite platform services to scientists, research institutions, and commercial companies for science experiments and technology demonstrations. It recently received U.S.$21.84 million in series-B funding.