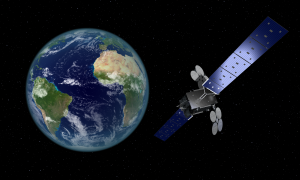 UAE's Yahsat is looking at providing satellite connectivity for managing networked devices in the Internet of Things (IoT) in a bid to ensure growing revenues in the coming years.
The Mubadala Investment Company-owned satellite operator will use this move to enter the mobility and IoT segments, as well as possibly compete with telecoms service providers, according to its chief executive, Masood Sharif Mahmood.
"Everything is sensored and metered and [whether consumers] choose telecoms service providers or satellite is not a big challenge," Mahmood told The National. "What we're seeing is that, as the industry starts providing live solutions on the sensors – mobile solutions – then the adoption of this will be on a higher sort of scale."
Mahmood went on to explain that he was referring to live asset tracking through the Global Positioning System (GPS), which is increasingly being merged with business analytics and artificial intelligence, particularly when it comes to cross-country, regional mobility, which can be better serviced by satellite over telecoms service providers. 
Yahsat launched its third satellite, Al Yah 3, in January, and it anticipates greater demand for satellite broadband services as there is higher uptake in IoT-serviced industries, such as oil and gas, and on the growth of sustainable cities in the Middle East and Africa. According to The National, US-based International Data Corporation, reports that the IoT market in the Middle East and Africa is set to grow 15 per cent in 2018 to reach $6.99 billion in 2018 and $12.62bn by 2021
Yahsat's ongoing acquisition of a majority stake in fellow UAE satellite operator Thuraya was also considered as part of efforts to grow its mobility segment, added Mahmood. He declined to specify Yahsat's stake in the operator or the value of the transaction in the article.
Al Yah 3, which completed orbital testing at the end of May, is expected to increase Yahsat's footprint in an additional 19 countries, including newer markets in Latin America and Brazil. It currently has two other satellites, Al Yah 1 and Al Yah 2, which provide government solutions, satellite TV and satellite broadband across the Middle East, Africa, and central and south-west Asia, with its coverage penetrating remote access areas.
"When we mix our old fleet and the new fleet our satellite broadband will cover 60 per cent of the populations of Africa and 95 per cent of the population of Brazil," explained Mahmood.
YahClick, as the its satellite broadband service is known, has grown to cover around 50,000 devices, he added. While this satellite broadband connectivity is available through retailers in the markets covered by Yahsat, often remote localities, it is also the third licensed operator for internet services in the UAE. While YahClick provides connectivity to the oil and gas industry as well as services requiring remote connectivity in the Emirates, Mahmood explained it would be a while before it becomes competitive with telecoms service providers.
"It's the equivalent of sending fibre into the sky and the satellites are 36,000km away, so really scare resource capacity," he said.
Yahsat, which specialises in coverage of unserved, digitally-remote areas, will eventually target providing connectivity to already served segments in cities as well.
"The way technology is moving, we think that it will be able to compete in the served ring as well. That will be the future," said Mr Mahmood.