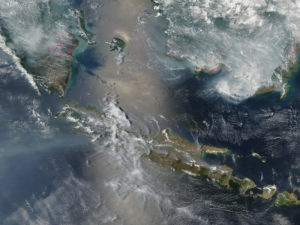 PT Bank Rakyat Indonesia or Bank BRI, the state-owned and largest bank in Indonesia, has selected Hughes' JUPITER system to enable connectivity across the Indonesian market. Bank BRI, which already owns a satellite, BRIsat, covering Indonesia and Southeast Asia, will gain an enterprise grade wide-area network (WAN) to connect tens of thousands of sites with the Quality of Service (QoS) capabilities, scalability and availability necessary to meet customer banking needs throughout the region.
The Bank BRI project will connect bank sites and over 50 million customers throughout Indonesia. The bank was looking for a highly reliable, efficient and scalable solution that would grow as the business grows and that would enable important, banking applications both traditional and emerging, such as mobile banking and other consumer applications.
The JUPITER System Gateway provides a single platform compatible on both C- and Ku-band satellite capacity, resulting in enhanced operational efficiencies and bandwidth utilization. The solution also incorporates redundant primary and secondary gateways to deliver 99.9 percent availability, ensuring Bank BRI can serve more customers in Indonesia with the reliability and quality necessary for critical banking needs. In a competitive bidding process, Bank BRI rated the Hughes solution technically higher than other vendors, and the company was recognized for having the highest performing terminals supporting up to 300 Mbps of throughput, along with the multi-service capabilities necessary for future scalability.
"Our partnership with Bank BRI is a testament to our commitment to helping to close the digital divide and enable new services for citizens around the world, no matter where they live," said Ramesh Ramaswamy, senior vice president and general manager, International at Hughes. "With our solution, Bank BRI will ensure financial data availability and transactions for its customers across the region, and we look forward to helping them meet their customers' needs going forward."
Hughes expects to fulfill the initial order for two gateways and several hundred sites by year-end.