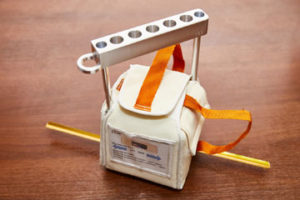 The scientific and educational satellites SiriusSat-1 and SiriusSat-2 were assembled by schoolchildren at the center for gifted education Sirius in the city of Sochi in cooperation with the specialists of the Russian private space company SPUTNIX on the basis of the cubesat OrbiCaft-Pro nanosatellite platform developed by the company. The platform is a standardized international dimension type CubeSat 1U. The SiriusSat spacecraft have been modified in order to meet the launch requirements, with certain elements added, such as a special handle to make the launch from a cosmonaut's hand possible, flexible antennas, a system for the manual activation of spacecraft, specially designed protective quick-release covers and soft shipping containers. The mass of each satellite including the handle is 1.45 kg. The dimensions of the satellite not counting the unfolded antennas are 130x131x236 mm. The science payload on board the spacecraft is a space particle detector for studying space weather. The sensor was developed by the Research Institute of Nuclear Physics, Moscow State University, and assembled with participation of a school student group from the educational center Sirius, the city of Sochi.
In the summer of 2017, SiriusSat was demonstrated to President of the Russian Federation Vladimir Putin in Sochi during his visit to the educational center Sirius. The children who assembled the spacecraft asked the President about the possibility of the launch of the satellite. The State Corporation Roscosmos helped organize a free-of-charge launch under the free Russian School and Student Satellites Launch Program. Subsequently, it was decided that two identical spacecraft – SiriusSat-1 and SiriusSat-2 – would be launched into space together.
The satellites passed additional tests at the Rocket and Space Corporation Energia before being sent to the ISS. Two satellites were launched to the ISS on July 10, 2018 aboard the Progress MS-09 cargo spacecraft. Their release into working orbit from the ISS is scheduled for August during the next Russian spacewalk.
The satellites SiriusSat-1 and SiriusSat-2 have their own radio call signs. The SiriusSat-1 (SXC1-181) cubesat is assigned with the call sign RS13S (beacon frequency – 435.570 MHz), SiriusSat-2 cubesat (SXC1-182) – with call sign RS14S (beacon frequency – 435.670 MHz ).
СохранитьСохранить