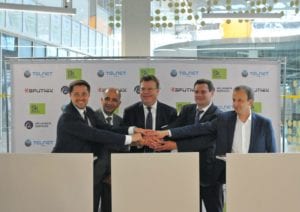 The Skolkovo Technopark was the backdrop for the signing of a trilateral Memorandum of Understanding (MoU) between Tunisian company TELNET Holding and Russian companies SPUTNIX and GK Launch Services. The MoU will see the companies cooperating on the building of smallsat components and entire satellites, and the orbit and deployment of constellations.
Within the collaboration, the trio expect to build and deploy a constellation of about 30 smallsats with an Internet-of-Things mission before 2023. The project will involve the establishment of an R&D facility and a factory for the production of satellite components and test laboratories in Tunisia, with the help of SPUTNIX, an experienced smallsat manufacturer.
"The joint efforts of TELNET Holding, SPUTNIX and GK Launch Services will not only create new space technologies and telecommunication solutions that are in demand on the world market, but also lay the foundation for the development of space industry in Tunisia," said Mohamed Frikha, Director of TELNET Holding.
The satellites are to be based on CubeSat technology and will allow the development of reliable up-to-date telecommunications spacecraft within a short time.
"We believe this project and this cooperation have great prospects. The Internet of Things is very rapidly growing all over the world, and SPUTNIX is willing to participate in the construction and development of the IoT space segment," added Vladislav Ivanenko, SPUTNIX Director General.
The satellites are expected to be launched to a low Earth orbit by the Russian Soyuz-2 rocket.
"Today, we've made another important step in the development of our relations. These are not only the relations between GK Launch Services and TELNET Holding, but also relations between Russia and Tunisia in the field of space, which we hope will be further developed," said Alexander Serkin, CEO, GK Launch Services.  "To perform the launch, we will offer a Soyuz-2 launch vehicle configuration with the Fregat upper stage, which will ensure high accuracy of the orbital constellation deployment. It is important at that that the cost of the launch will be attractive to our partner".
Furthermore, within the framework of the collaboration, the partner companies are planning to arrange courses for representatives of educational institutions and industrial companies and to conduct classes for students, researchers and engineers at the Private Space Academy in Tunisia. Experts from SPUTNIX, GK Launch Services, professors from Russian universities and other specially invited instructors will be involved in the educational program. This type of programme  will be the basis for a large-scale space education system in Tunisia.