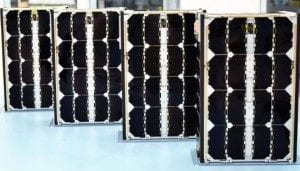 Kleos Space S.A., a space-powered Radio Frequency Reconnaissance data provider headquartered in Luxembourg and listed on the Australian Stock Exchange (ASX), has announced that the Luxembourg Space Agency has approved an additional €1,000,000 (AUS$1,631,900; U.S.$1,138,395) financial grant (non-equity) support for data product development. The company also announced a number of pre-orders.
Today, the Grand Duchy of Luxembourg is home to approximately 50 space companies and research labs. The space sector's contribution to the nation's GDP is among the highest ratios in Europe.
The country's expertise in international finance and dedicated funding resources foster the sustainable and ongoing development of the country's space capabilities.
With the funding support approval from the Luxembourg Space Agency, Kleos have entered the European Space Agency Business Applications programme process and aim to be on contract with initial funding receipts by the end of 2019.
The funding, conditional on successful launch of the Kleos Scouting Mission, will be applied towards further developing Kleos data products, enhancing capability and increasing revenues.
Andy Bowyer, CEO of Kleos Space, said, "The Luxembourg Space Agency eco-system is highly supportive of commercial enterprises, assisting with product development financing and also licencing."
Kleos Space has also concluded two early adopter pre-orders with leading international defence and security contractors with combined annual revenues in the order of AUS$30 billion (U.S.$20.8 billion). These contracts open the path to revenues in the order of €1.8 million (~AUS$3 million; U.S.$2,050,000) over the first three years after commissioning of the four Kleos' Scouting Mission satellites. All revenues are subject to successful launch and data test phase.
The contracts are based on the Kleos fixed pricing model, which is applicable to each licensee; a pricing feature that has been well received by industry.
Kleos will start processed data delivery through its Guardian LOCATE Product.
Due to the increased monitoring capacity Guardian LOCATE will provide and the possibility that surveillance operations may be compromised; the Early Adopters have not been named.
With the first cluster of four satellites in orbit in August, Kleos will, on average, revisit most Areas of Interest (AOI) on a daily basis, for high latitude, polar, high value AOI, the revisit rate will be higher or several times a day. In 2020, with the planned further 2 x clusters (12 nano- satellites total) in orbit, temporal coverage will increase significantly leading to an even higher value data product. Kleos goal is to field sufficient clusters to provide the desired access rate critical for monitoring global events or locations.
Kleos complete product range is:
Guardian LOCATE – processed data delivering geo-located RF activity for further analytics within GEOINT and data fusion programs;
Guardian RF – raw data from Kleos satellites suitable for customers with their own geo- location analysis / signals intelligence capability for government and military purposes; and
Guardian UDT – user defined, customised data set allowing selection of specific areas of interest, ground station, level of security. and level of processing by the customer.
Kleos CEO Andy Bowyer said "We have made tremendous inroads at the GEOINT Conference where we showcased Kleos and our technology offering to leading government and commercial defence customers. Further pre-orders and delivery contracts are expected as a result of our participation at GEOINT and before launch.
"Lighthouse customers will provide valuable feedback as we increase our constellation of satellites to provide almost real-time global coverage of RF activity by hidden maritime targets.
"Kleos revenues will increase as we refine our technology and rollout our full product range.
"The early adopters represent many end-users, each a possible further revenue source to Kleos as it rolls out its DaaS license model."