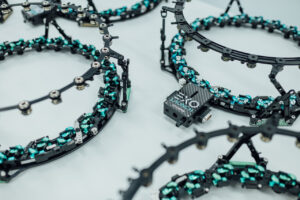 London, 3 March 2023. – Two German NewSpace companies – constellr, a technology company enabling space-based water, temperature and carbon measurement for the agricultural sector, and Exolaunch, a global provider of launch, deployment and in-space logistics services, have announced the signing of the multi-launch agreement (MLA) for constellr's high precision versatile ecosphere monitoring (HiVE) microsat constellation. 
The HiVE constellation is designed to provide advanced warning to AgTech companies for plant stress from temperature-induced evapotranspiration. The data enables farmers and the AgTech industry to minimise water waste whilst maximising crop output. 
"Our entire team is excited to move forward with the launch preparation activities and this multi-launch agreement marks a big milestone in our constellation development and deployment," says Dr. Riccardo Benvenuto, HiVE Programme Director at constellr. "We already have a great relationship and given their expertise and long track record of successful launches, we trust them to deploy our HiVE microsatellites smoothly and safely into orbit." 
Exolaunch has a proven track of 18 successful missions and 269 satellites flown. constellr has chosen Exolaunch as its partner to oversee its entire launch mission management, including integration, and Launch and Early Orbit phase. Exolaunch will be using its separation system CarboNIX, which has flown on 11 missions so far and launched 49 microsats to ensure low-shock separation and smooth orbit injection for the constellr's microsats.
The first two operational and commercial satellites of the HiVE constellation are planned to launch into Sun Synchronous Orbit in 2024. Both microsats will feature constellr's cryocooled long-wave infrared (LWIR) instruments, which are capable of mapping Earth's land surface temperature with unprecedented precision. These missions mark the first time a cryocooled LWIR sensor will be deployed into space aboard a microsat.