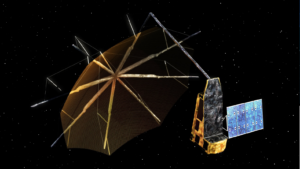 London, 3 March 2023. – ESA's Earth Explorer Biomass satellite has undergone testing to ensure it will survive liftoff and deploy its solar array correctly. Having passed these tests successfully Biomass is closer to its mission in orbit: to deliver new information on our forests and the carbon they store. 
The forest satellite was shipped from the UK last November and took up residency at Airbus' Astrolabe facilities in Toulouse, France, to begin the 'environment campaign'. This is the mechanical part of the campaign to ensure it will remain intact during its ride to orbit. 
Working together a team of Airbus engineers from the UK and satellite experts from ESA completed the campaign, with the vibration tests followed up by the acoustic environment tests in the LEAF chamber. These tests were undertaken to ensure that the Biomass satellite will survive the blasts of noise and shuddering during liftoff.
Following these tests, the solar array deployment test was carried out. The solar array is a single wing consisting of four panels that open from the side via a yoke. Outstretched the wing has an area of just over five square metres and generates the power that the satellite needs. Engineers were testing that the satellite will unfold its solar wing in the correct sequence. This test is challenging as it happens in a cleanroom on Earth where gravity is still a factor, which requires a complicated setup- when the satellite is in orbit gravity won't be an issue.
Janice Patterson, ESA's Biomass system engineering and satellite manager, added, "We are all very happy with the outcomes of this test, all the success criteria were achieved, and the satellite behaved in line with expectations. With this we are one step closer to the launch; from a mechanical point of view Biomass is ready to go!"
Biomass is expected to launch in 2024 from Europe's Spaceport in Kourou, French Guiana on a Vega rocket. The next steps of the environmental campaign will include the tests for the harsh environment of space that place the satellite under the extreme temperature variations it will experience.